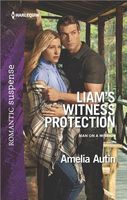 Series:
Man on a Mission
(Book 6)
The next Man on a Mission hero safeguards his charge until she reaches the witness stand--and his heart
Caterina "Cate" Mateja is prepping her testimony against the crime kingpin who enslaved her when his henchmen open fire in the courthouse, narrowly missing her. US Diplomatic Security Service agent Liam Jones dodges bullets to get her to safety, and yet the gorgeous man seems to want nothing to do with Cate's case--or her.
It's not Liam's job to protect Cate. But after he discovers everything she's been through, he makes it his personal mission to ensure she'll have her day on the witness stand. Staying by her side 24/7 may mean opening his heart to a woman who's unable to offer hers.
I've been waiting for Liam's story since I first saw him in
McKinnon's Royal Mission
, where he and his brother Alec were two of the princess's bodyguards. He was fantastic at his job, but there always seemed to be just a little bit more to the way he did it. At the beginning of this book, he is beginning a three week vacation, insisted on by his boss, because he hasn't had one in a year. He's starting out by attending the trial of Aleksandrov Vishenko, a seriously nasty man, as a favor to his brother Alec.
At the end of
Alec's Royal Assignment
, Alec and his fiancee Angelina had just found her missing cousin, Caterina. She had been kidnapped and made a sex slave by Vishenko, but had escaped and been on the run for seven years. Alec and Angelina have convinced her to testify against Vishenko, but as another witness, Alec cannot attend the trial. As Alec and Liam wait outside the courtroom, gunfire erupts and the men around Cate fall. Alec and Liam rush to help, with Alec charging Liam with getting Cate to safety.
I was a little miffed at Liam at the beginning, as he seemed to be judging Cate without knowing all the facts. It puzzles him that he is attracted to this woman, but he isn't going to let that affect what he needs to do. He quickly discovers that he was wrong, which adds a feeling of guilt to the attraction. He realizes that he had wanted to think the worst of her in order to counteract his attraction to her. The little bit of her history that he learns from Alec gives him great respect for her determination to testify against Vishenko. It also brings out a whole new side of him, a different level of protectiveness.
I hurt so much for Cate. She blames herself for everything she has been through, because she hadn't been content with her life back in Zakhar. She also feels responsible for the deaths and injuries back at the courthouse, because they had all been there because of her. And beneath it all, is the way that she feels worthless because of what was done to her and what she did to survive. She feels dead to everything that would make her feel like a normal woman. That is, until she spends time with Liam.
This is where Liam really starts to shine. Though he is as tough as his brother, he also has a more sensitive side. It doesn't take him long at all to pick up on Cate's fear of men, and he adjusts his treatment of her accordingly. He also becomes very good at picking up on little things about her, such as her love of books. I loved the scene where she is trying to pick out one book to buy, and what he does for her there. When they reach their final hiding place, Liam's feelings for Cate really begin to grow. I loved the way he helped her through her nightmares, and the way his first thoughts were always of her and her needs.
I loved seeing the changes that Cate went through. Her determination to do the right thing was strong and stayed that way throughout the book, but her opinion of herself was something entirely different. She senses Liam's judging of her at the beginning and doesn't let it bother her because she feels it is deserved. But when his attitude changed, and she realizes that it's because he knows what she went through, she feels ashamed because she has begun to feel that his opinion of her matters. I liked seeing how she listened when he tried to tell her that she wasn't at fault, and that she wanted to believe him. I loved seeing how she began to trust him and open up to him. What really surprised her was the way that he made her feel things she never thought she'd experience again.
I loved Liam the most when he made his feelings clear to Cate, and let her know that they wouldn't change, even if she couldn't return them. He was sure she did care, but that she might never be able to get to the point of saying so. All that was needed was for Cate to realize it herself and be willing to believe in them. The sensitivity that Liam showed as they began to explore their attraction was incredibly moving. The way it all worked out was emotional, and so very satisfying. The icing on the cake was in the epilogue, and I loved Cate's reaction.
The Vishenko story line that ran through this book and the previous ones was fantastic. From the moment the shots were fired in the courthouse to the end of the trial, I could not put the book down. Though Liam is DSS, the involvement of Nick D'Arcy and "the agency" had everything moving along as only he can arrange. The inclusion of segments from Vishenko's point of view gave an even better indication of just what Liam and the others were dealing with. There was a really interesting twist at the end that, had it been anyone else, would have had me worried. As it was, the final confrontation was intense, and I thought Cate was amazing with how she handled it. The wrap up was great, including the results of the trials.
I also loved the family dynamics of the Jones clan. The love and support they have for each other runs through all the books. The stories that Liam shared about life with his brothers, especially Alec were fun. It was interesting to see the bit of jealousy that Liam experienced over Cate's admiration of Alec. I loved the scene at the hospital with Liam's mom, her using his whole name, and Liam's reaction to it. As the only girl, Keira has a unique perspective on her brothers, and I loved the way she used it to help Cate. I'm really looking forward to the stories for Shane and Niall.
*copy received in exchange for an honest review.