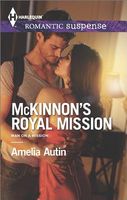 Series:
Man on a Mission
(Book 2)
The secret princess's bodyguard...
As head of a visiting royal's protection detail, Trace McKinnon's focus should be strictly on the external threats against a woman's life. But what happens when he finds Dr. Mara Marianescu--a princess incognito as a college professor--much more intriguing?
And that's only the start of his troubles. When actual danger arrives for this beautiful royal, Trace isn't sure if it's because of a genuine threat from her country--or because of the darkness in his own past. Trace knows he should let Mara go--and does his best. But the cool, intelligent princess might just risk the one thing she has that is all her own--her heart...
Fantastic book. I loved the suspense and the romance, but it was the depth of emotion that put this one over the top for me. I first met Trace in
Cody Walker's Woman
, where he was Kiera's partner. His respect for her abilities, while still being protective made him pretty special. I loved his interactions with her, and was thrilled to find out he would have his own story.
Trace has been asked to head the security detail for Princess Mara's stay in the US, while she is teaching at a local college. He's been asked to use his knowledge of her language covertly, to make sure there is nothing untoward going on. There are also those who want him to use his good looks to get closer to the princess, but that he refuses to do. During his first encounter with her, he hears something that makes him think she is cold and that she thinks she is superior to others. It colors his treatment of her for some time, because he had experienced too much of that treatment himself. He was raised by his grandparents, who never let him forget that he was illegitimate, and that his mother had no idea who his father was.
Though Mara misses her homeland and her brother, she is happy to be doing a job she loves. It gives her a sense of satisfaction that she rarely receives anywhere else. Mara spent her life feeling her father's hatred of her and enduring his constant belittling. Even after his death, his words haunt her, making her believe that no one will ever love her for who she is. Trace's treatment of her only reinforces how she feels. She doesn't know what she's done to make him feel that way, and it hurts her.
I loved seeing them together. There were some interesting clashes between them as Mara had to adjust to the restrictions placed on her and Trace had to balance her safety with allowing her some freedom. Their love was a slow growing one that had major obstacles to overcome. There was attraction between them from the start. Trace knew that, as her bodyguard, getting involved with Mara would be wrong on many levels. He fought hard to keep a distance between them, but it was a losing battle. As he got to know her, he learned more of the things that had shaped who she was and couldn't help but be affected by them. This was really apparent on their hike when he confronted the man with the camera. He begins to see a different Mara than the one he thought she was, and that Mara is one he likes a lot.
Mara had started out by being intrigued by Trace, even as his attitude hurt her. Although she felt that he disliked her, she also knew instinctively that she could trust him. Mara had come to the US incognito, wanting a chance to feel like a normal woman and just try to fit in. She gets to know Trace better and her feelings for him begin to change. What she feels is something she's never felt before and she can't help but show the way she feels. After an afternoon when their attraction leads to more than either expected, Mara knows that she loves him and believes he loves her too.
Their relationship changes, and both of them find a new level of trust with each other. I loved seeing them open up with their fears and dreams and emotions. I loved seeing Mara become more confident in herself thanks to Trace's influence. She and Trace are both happy, though neither talks of the future, especially Trace. He can't forget who and what he is and the gulf he sees between them.
There is also trouble brewing. When Trace discovers he's being followed his first thoughts are of Mara's safety. It's unknown if the trouble is because of who Mara is, or if it is trouble from Trace's past. When he comes to suspect the trouble stems from him, he is determined to keep Mara safe, and believes that separating himself from her is the only way. An attempted kidnapping cements his resolve. He also knows that Mara will not accept his departure and can think of only one way to make it happen - he has to make her think he doesn't care.
What happens then was so very hard to read. I don't know how many tissues I went through as Trace says things that tear his heart out even as they break Mara's heart. He knew he was hurting her, but thought it was the only way. Seeing his misery and doubts afterward was so painful. It takes straight talk from Kiera to make him see what he has done and give him the push he needs to try to fix it. What follows had me go through more tissues as Trace breaks the chains that kept him from believing he could have it all. I loved the ending and seeing Trace and Mara both happier than they ever thought they could be.
There are a couple of very interesting twists that happen before Trace can get to Mara, one which was pretty amusing given what Trace does for a living, and the other which I did not see coming, but both were great.
I can't wait to read Mara's brother's story, after the hints that were dropped in this one. I fully expect that it will be just as good. I also hope to see books for Alec and Liam, the other two bodyguards - who are also Kiera's brothers. I loved them in this book, with the way they also cared about Mara, and how they stood up to Trace because of it.
Advanced copy received in exchange for an honest review.