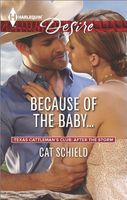 Series:
Texas Cattleman's Club: After the Storm
(Book 4)
When proximity for the sake of the baby leads to passion…
Born prematurely during a devastating tornado, baby Grace is the littlest miracle in Royal, Texas. Now, with Grace's mother in a coma and her father missing, rancher Keaton Holt and nurse Lark Taylor must come together to care for their niece, putting aside a century-old family feud for the child's sake.
For these two, the road to forgiveness is paved with passion. Even as the family feud continues around them, Lark and Keaton forge a feverish bond. But what the tornado brought together it can tear apart as new revelations surface in the aftermath of the storm…
Good story with an enemies to lovers theme. Keaton and Lark's families have been feuding over a piece of land for more than a hundred years. Because of it, when Keaton's brother Jake fell in love with Lark's sister Skye, they left Royal rather than deal with their families' attitudes. The day of the tornado, pregnant Skye was found unconscious in her car. Her baby, Grace, was born prematurely, and Skye has been in a coma for the last three months. The baby's father is missing, so when it's time for baby Grace to leave the hospital, Lark takes custody of her.
As a nurse, Lark has spent a lot of time with little Grace, and is determined to do the best she can for her. Keaton is also determined to do what he can for his brother's child until Jake can be found. Lark and Keaton decide to put aside the family conflict and work together to take care of the baby. Lark has always been the shy, quiet sister, overshadowed by her sister's more outgoing nature. Over the past four years she has regretted not supporting her sister when she chose love over her family, and wants to be able to tell Skye that. When it's time to bring Grace home, Keaton insists on helping and feels that the best way to do that is to move in with Lark. She isn't too sure at first, but does agree that she needs help.
Keaton's ranch sustained a lot of damage from the tornado, so he is heavily involved in taking care of that. He also helps with some of the damage to the town hall. Knowing that Grace is his brother's child, he is determined to have a part in her care. He has also been trying to track down his brother to let him know what happened. He is more than willing to put the feud aside to help care for Grace.
I loved Lark and Keaton together. He is pretty sweet in his determination to help care for Grace and how hands on he wants to be. Lark has been the only family member caring for her and is reluctant to give up any control, but the first day home shows her that she does need the help. I loved the way that Keaton went to the internet to search for way to deal with a crying baby, and how he and Lark worked together to figure it out. I loved Keaton's patience with Lark's attitude, and how he did what was needed anyway. I enjoyed how they started out with a truce for Grace's sake, then proceeded on to friendship as they got to know each better. There were many ways they were alike. Living so closely together they also discovered an intense attraction to each other. Lark tried to fight it at the beginning, remembering the havoc from Jake and Skye's relationship, and not wanting to go through the same thing. But it was too strong to ignore and it wasn't long before she and Keaton were heavily involved. She was still worried about the reaction if and when her parents find out.
Once they were involved, both Lark and Keaton found themselves mostly ignoring the feud. Their feelings for each other deepen and both realize that what they have is special. Keaton's care for her gives her a confidence in herself that she never had before, and eventually the courage to stand up for what she wants. When Keaton finds something that's going to set the feud on its ear, his first thoughts are about how it will affect his relationship with Lark. What ends up happening is painful for her at first, but her own sense of who she is makes everything turn out right in the end. I loved Keaton's support of Lark, and what he did at the end.
I liked seeing how baby Grace helped heal things with Keaton's family. His parents' visit to the baby went really well, and I liked seeing his mother and how nice she was with Lark. On the other side, Lark's parents were a real piece of work. Their selfishness and unwillingness to do anything with Grace really bothered Lark. They were also really nasty about Lark allowing Keaton to help her. I really liked seeing Lark's visits to Skye and how she talked to her about Grace. The hope is always there that Skye will wake up soon.