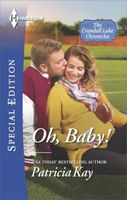 Series:
Crandall Lake Chronicles
(Book 1)
In the Family Way…Times Two?
Sophie Marlowe has always been the responsible one. She gave up her teenage love, Dillon Burke, to raise Joy -- her little sister -- on her own. But just as Sophie is about to sigh in relief at a job well done, she learns Dillon's back in town -- with the teenage nephew he's raising on his own. If Aidan is half the young man Dillon was -- well, Sophie is determined to keep the two young people apart.
Oops! Too late! Joy and Aidan are in love. And Joy is pregnant!
What is Sophie to do? She has to talk to Dillon. But she'd better be careful. Because she can't resist him any more than Joy was able to resist Aidan. And pregnancy apparently runs in the Marlowe family…
Good book, that is both a story of young love and second chances. Sophie and Dillon had been an item back when they were in high school. Dillon was the hotshot senior quarterback and Sophie was a sophomore cheerleader. When graduation came, Dillon left town for college and then a pro career in football and never looked back, leaving Sophie heartbroken. Several years later her parents died, leaving her to raise her little sister, Joy. Sophie is now the guidance counselor at the high school and Joy is following in her footsteps as a cheerleader. Then Dillon comes back to town as the new football coach, accompanied by his nephew. Sophie sees a lot of Dillon in Aidan and is determined to keep history from repeating itself. What she doesn't know is that they've already met and have been very close since the summer. By the time she finds out, it's too late.
When Sophie finds out that Joy is pregnant, she knows she has to talk to Dillon. That's going to be a bit of a challenge, because the old attraction is still there and a huge distraction from her goal of helping Joy. How can she blame Joy for falling for Aidan when Dillon is just as irresistible to her?
There were things I really liked about Sophie and Dillon. Both of them were determined to do their best raising their teenagers and had significant challenges in doing so. Dillon especially had it rough, as Aidan was dealing with the loss of his parents and having to move away from his friends by being a real pain in the butt. Joy had not been much trouble for Sophie until she got involved with Aidan, then she was in way over her head. I liked the way that Sophie wanted to do what was best for Joy, but gave Joy the options of what her choices were. Dillon also made sure that Aidan was aware of his responsibilities. I also liked that Sophie and Dillon were able to work together to help both kids through the crisis.
The rekindling of the relationship between Sophie and Dillon was rather volatile. They had avoided each other as much as possible until Joy's pregnancy happened. There had been a couple encounters that had shown that there was still something between them, but they tried to ignore it. The evening that Sophie told Dillon about Joy's pregnancy tempers got a little out of hand and all that heat exploded into passion. Dillon wants to see where it will go, but Sophie is reluctant to open herself up to the risk of heartbreak at his hands again. She can't seem to see that he is different than the boy she remembers, so she keeps trying to push him away. Dillon is still attracted to Sophie and thinks that if she'd just give him a chance they could have something special, even though he's not quite ready to call it love. When Sophie discovers that she's pregnant too, she's torn. She knows she has to tell Dillon, but she doesn't want him to propose out of obligation, she's finally realized that she wants his love. Both Sophie and Dillon do some running away from their feelings before they finally face them and each other. I loved the ending and the epilogue was a nice wrap up.
I also enjoyed the parallel story of Joy and Aidan. Each of them had issues resulting from their parents' deaths that had them making some poor decisions. I liked that both of them faced up to what they had done and tried to make better choices. It helped them both that they had support from their families, but they still had decisions to make. The emotions seemed quite realistic, as did the options they had. It was great to see that a little time apart showed them what they really wanted and I liked seeing them work out a way to make dreams happen in spite of the challenges.