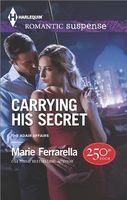 Series:
Adair Affairs
(Book 1)
When Elizabeth Shelton finds her boss murdered, her life is thrown into turmoil. But nothing shocks her more than learning she's pregnant by the man's son. She kept her attraction to mogul Whit Adair hidden for years before their one-night tryst -- and now she must keep another secret…
When the killer targets her next, Whit goes from her one-time lover to her full-time bodyguard. Taking her to his ranch for safekeeping, Whit discovers the truth about the baby. He offers his protection, but Elizabeth wants more -- his love. For his child and its mother, he'll do anything -- even take down a murderer…
Very good start to the new series. It begins when Elizabeth, executive assistant to Reginald Adair, discovers him shot and dying in his office. She is questioned long and hard by the police who consider her to be a person of interest, before she is rescued by Whit Adair, her boss's son. Besides the shock of her boss's murder, Elizabeth is dealing with another surprise. She is pregnant with Whit's baby.

Elizabeth has been attracted to Whit since she started working for his father five years earlier. They've worked together numerous times, and she's always been able to keep a lid on her feelings. Unknown to her, Whit has been just as interested in her, but has a rule that he doesn't get involved with coworkers. Then one night they were stranded together because of a storm and gave in to the attraction. Neither knew how to deal with it the next day, so they just pretended it didn't happen - until Elizabeth discovered she was pregnant.

Whit suddenly has a lot to deal with. As the oldest, he has been the one most involved in the business. He has always worked extra hard, hoping to get the approval of his father, who was an emotionally distant man. Now that chance is gone, and he must deal with his grief as best he can. He finds himself relying on Elizabeth a lot, bringing his attraction to her back to the surface, even though he tries to subdue it. When he finds her being held for questioning in his father's murder, all his protective instincts kick in. When it becomes apparent that she's being targeted by his father's killer, Whit is determined to keep her safe, and takes her to the family ranch to protect her.
Elizabeth isn't convinced at first that she's in danger, but gives in to Whit's demands. All she wants to do is keep her pregnancy secret until a better time comes to inform Whit of his impending fatherhood. Being on the ranch and in his company makes it hard to keep her feelings hidden. She is reluctant to tell him about the baby for fear he'll want to "do the right thing". She doesn't want to be an obligation, she wants his love. When she is attacked at the ranch, her pregnancy is revealed, and she finds her fears realized. She isn't sure how she is going to be able to resist giving in to him, but knows she must if she wants a chance to be happy.
I liked Elizabeth's determination to hold out for love. She knew her own feelings, and that they would have to be shared for her to be happy. I also liked the way she was so worried about him when his dad was killed. She could see that he was burying his feelings and wanted to help him. I loved seeing her do everything in her power to make things easier on him. Whit is used to burying his feelings. His family life hadn't been that great, with an emotionally distant father and a self-centered mother who had no interest in her children. He has no experience with love and what it feels like. He does know that being with Elizabeth is important to him. He's stunned by news of her pregnancy and more so by her refusal to marry him. Knowing she's in danger makes him even more determined to keep her with him. Nearly losing her makes him realize just what his feelings really are.
There is a lot going on in this first book, as it sets things up for the series. First is the murder of Whit's father. There are also the attacks on Elizabeth, presumably by the killer, who may think that she saw something. At the reading of the will, Whit and his siblings discover that their father had been married before, and that they have an older half brother who was kidnapped as a baby and never found. They are determined to find him themselves. They also have to deal with their mother, who is a really nasty piece of work, especially to Elizabeth. By the end of the book, the search is still on for their brother, which will most likely go on through the series. Elizabeth's attacker has been discovered, but gets away, so will probably make a reappearance, and while the identity of the murderer is suspected, as yet there is no proof. The rest of the series should be good.