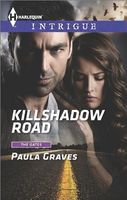 Series:
The Gates
(Book 5)
Nick Darcy thought he'd left his past behind…until McKenna Rigsby showed up wounded on his doorstep
Nick Darcy has always needed rules. So when he's temporarily suspended from a job he's dedicated his life to, the unstructured days ahead make him desperate for a distraction. That's when a blast from the past resurfaces on his front steps, bleeding and spinning a wild tale of assassins on her trail.
Their history is complicated. But Nick is still McKenna Rigsby's best chance when it comes to surviving. Her cover blown by a mole in the FBI, she needs a partner who can stay levelheaded in a firefight. She has no doubt they're headed for a showdown. And that this time, there won't be any rules left to break…
Good story. Nick is at loose ends because he's been temporarily suspended from his job at The Gates, suspected of leaking information about another agent (see
Deception Lake
). As he's wondering what he's going to do with his time, a wounded FBI agent shows up on his doorstep. And not just any agent, but one he has a history with.
McKenna Rigsby has been undercover in the Tennessee mountains, trying to get information on a local militia group suspected of domestic terrorism. But her cover was blown by someone in the FBI and now she's running for her life. She hasn't seen Nick in eight years, but he's the one person she knows she can trust.
Nick goes into protector mode, determined to keep McKenna safe. She doesn't know who she can trust in the FBI, so she is on her own. But with Nick's help she feels that they can find out who is responsible. Because he's on the outs with the people he works for, he doesn't have quite as many resources as he would usually have. But he hasn't been locked out entirely, and uses the contacts he has to help figure out who is behind the attacks on her.
There's a lot of off the record stuff going on in this story. Though Quinn suspended Nick, it's obvious that he still trusts him. He strongly suspects that McKenna is with Nick, and gives his unspoken support to Nick's plan to help her. However, being Quinn, he still attempts to keep an eye on what is going on, which doesn't always go over well with his agents. Because Nick and McKenna are wary of who they can trust, they find themselves frequently on the move. Each move brings them a little closer to finding the person responsible, until they finally decide on a plan to draw the person out. Again, because neither of them can do anything officially, they must depend on friends to make it happen. I loved seeing characters from previous books show up to help. Of course, the plan doesn't go quite as expected, and things get pretty intense for awhile. The resolution didn't go quite as I expected, and there are a few threads left hanging. I hope to see them tied up in the next book.
I enjoyed the romance between Nick and McKenna. Because they had known each other before, it didn't feel as if it happened too quickly. I liked the few flashbacks that were included, as they gave a good sense of how they got to know each other. There had obviously been an attraction and a connection back then, but because of their jobs they weren't able to do anything about it. The attraction they had then is still there, and is getting harder to resist. I also loved how their longstanding friendship showed in things like their Brit vs.hillbilly teasing. It wasn't until the end, when they were afraid of losing each other, that they could finally admit their feelings.