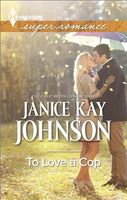 She's sworn to protect her heart
After what Laura Vennetti and her son have been through, she's avoided all contact with the police. Then her son brings detective Ethan Winter into their lives. Despite how appealing--and gorgeous--he is, it's safe to say Ethan "isn't" her dream man.
Immediately, though, Laura can see how different he is from her late husband. Ethan is thoughtful, considerate and a good influence on her son. Add in the intense attraction between her and Ethan... The temptation to give in is irresistible. To her surprise, Laura feels the wounds of the past healing, making her wonder if she could love "this" cop forever.
Very good book, and very emotional. Ethan is a police detective who was attending a gun show on his day off when he spotted Jake. He noticed Jake looking at the various guns, and that he had no adult with him and it was a schoolday. After confronting Jake he drove him home and stayed to talk to Jake's mother Laura. The initial meeting did not go well.
Laura is a widow and her son is eleven years old. Her husband had been a cop and part of a large Italian family. One day when Jake was five he found his father's gun and had grabbed it to show his cousin. Because it was heavy he dropped it and when he tried to catch it he accidentally pulled the trigger and killed his five year old cousin. The family rallied around the dead boy's family and completely cut ties with Laura's family. Between losing his family and the guilt over what had happened, her husband took his own life. Laura and Jake have been on their own for six years. Because of what happened, Laura has a deep loathing for guns and a distrust of those that carry them. She's horrified to find out where Jake had been and not too happy to have Ethan in her home. She sends him away as soon as she can.
Ethan had known her husband as they were both on the police force. He remembered what had happened and understands Laura's feelings. He also feels a bit guilty, because as one of Matt's brother officers he thinks he should have stayed in touch. He's determined to do so now, even though Laura had been less than welcoming. He was also attracted to Laura, which he found surprising considering her attitude. He is also worried about Jake, whose fascination with guns is bordering on obsession. He wants to find a way to help.
I loved the romance that built between Laura and Ethan. It was a slow building one, as Ethan knew that Laura had some issues with him that she had to overcome. I loved his patience with her fears, and how he worked to ease them. Ethan had been married before and his wife couldn't handle his job. It left him feeling cautious about getting emotionally involved, but with Laura he couldn't help it. I thought he was doing a really good job with it and things were going well. But he still had one event in his past that he hadn't shared with her because he was afraid of her reaction. Laura had been surprised by her attraction to Ethan also. She hadn't been interested in another man since her husband's death. Ethan being a cop was difficult for her because of her previous experiences. As he steps in to help with her son, she gets to know him better and sees the differences between him and Matt. Her fears begin to ease and the friendship they built turns to love.
When a case that Ethan's been working on goes bad, both discover that their issues are rooted deeper than they had realized. Both of them say things that really hurt the other and it doesn't look good for them to continue their relationship. My tears were flowing as it takes some very emotional soul searching by both of them to face down their own demons before they can finally be there for each other. I loved how they then faced each other with how they were feeling and why they had acted as they had. More tears as things were resolved.
I loved Laura's son Jake. What he had been through was tragic and the effect it had had on his life was terrible. He is still dealing with it and his methods are worrying to both Ethan and Laura. He likes it when Ethan befriends him and enjoys doing things with him. I thought his reactions to Ethan's rules were very realistic, as were some of the things he did. The portrayal of what he's going through was really good, and I loved seeing him getting closer to Ethan. He went through a lot of changes during the book and seeing the process was a huge part of the emotional appeal of the book.
I also liked seeing the comparison of the two families involved in the story. The Vanetti family, for all its closeness, had not treated Laura and Jake well at all. I really got Laura's bitterness, especially when the trouble started at Jake's school. I loved the way Ethan came rushing to support her and how he helped her. I really enjoyed seeing her follow his advice. I understood her reactions to the calls she received from them, and how she ended up having to deal with those feelings. As a contrast, I loved Ethan's mom and dad. Their love for each other just glows, and is a great example for Ethan. I loved their easy acceptance of Laura and Jake. Their reaction to what happens with Ethan shows what it should be like and gives him much to think about.
The case that ran throughout the book was interesting and showed the kinds of things that Ethan had to deal with. The culmination of the case and the effect it had on Ethan, Laura and Jake made it vital to the story.