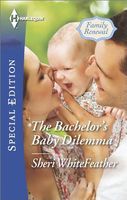 Series:
Family Renewal
(Book 3)
Reunited…And Reluctant
Commitment was always a dirty word for Tanner Quinn. He'd seen too much loss growing up. But now his troubled sister was expecting a baby, and he had to make a home for her child -- leading him to his high school girlfriend's doorstep, of all places! Candy McCall was still as sweet as her name, and her house was perfect for his purposes -- even if she did remind him of a time he'd spent much of his adult life wanting to forget…
Barely making ends meet, Candy saw Tanner's offer to buy her house as a godsend. But when he asked her to be the nanny to his niece, the arrangement quickly became too close for comfort. Would just one kiss remind them both of what they once were to each other…and might just be again?
Good second chance story between two people who have had a lot to deal with in their lives. Tanner and Candy had been friends and then boyfriend/girlfriend when they were younger. Candy was the girl he had had the longest relationship with until he broke things off with her at a bad time in his life. Candy had been heartbroken, but moved on with her life, eventually having a short-lived marriage with someone else. Now Tanner is back in her life, in desperate need of her help.
Candy needs to sell her house, no longer able to afford to keep it. Tanner needs a house and hers looks like it will be just right. He has been a commitment avoiding bachelor for a long time, but his sister needs him to take care of her baby while she spends two years in prison. Tanner is terrified of the idea, remembering what happened to his life when his youngest sister died of SIDS when he was seventeen. Not only had he lost his sister, but his parents' marriage fell apart, causing him to lose faith in the idea of love.
Candy is still a believer in love, in spite of her short-lived marriage. That had come about because she got pregnant by the man she thought she loved and they married because of the baby. When she had a miscarriage, he ended the marriage because he didn't actually love her. She is still grieving the loss of her baby, but has confidence that someday she'll find a man who will love her and give her the life she wants.
When Candy and Tanner meet again, there is definite attraction between them. Tanner would like nothing more than to pursue that attraction, but Candy isn't interested in sex without love and Tanner doesn't allow emotions into his relationships. They settle into a tentative friendship as Tanner asks for Candy's help in getting things set up for his niece. When the nanny Tanner hired is unable to do the job, Tanner begs Candy to take on the job instead. It isn't long before Candy is questioning her determination not to get involved with Tanner. Can she overcome her tendency to get her emotions involved and just enjoy what he is offering?
As the two of them got closer, Candy found that her emotions were involved whether she wanted them to be or not. She couldn't help thinking of them as a family, in spite of her promises to Tanner to the contrary. Tanner also found himself thinking that way, but every time he did he would panic and convince himself that he was imagining things. It wasn't until he nearly lost her that he realized everything they had had was leading to love, he just hadn't recognized it. Then, all he had to do was convince her that what they had was real and would last.
I liked seeing how determined Tanner was to give Ivy the best he could, in spite of his fears. His worries were understandable given his past. I loved the way that Candy pushed and encouraged him until he was more comfortable. I liked that he was also determined that his sister would never forget that Ivy was her daughter, even though she was constantly trying to force he and Candy together. I felt bad for Megan and her unhappiness, and so glad that Candy and Tanner want to help her through it. I hope that she will eventually get her own story.