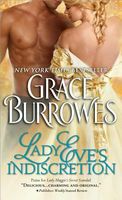 Series:
Duke's Daughters
(Book 4)
Lady Eve's Got The Perfect Plan
Pretty, petite Evie Windham has been more indiscreet than her parents, the Duke and Duchess of Moreland, suspect. Fearing that a wedding night would reveal her past, she's running out of excuses to dodge adoring swains. Lucas Denning, the newly titled Marquis of Deene, has reason of his own for avoiding marriage. So Evie and Deene strike a deal, each agreeing to be the other's decoy. At this rate, matrimony could be avoided indefinitely...until the two are caught in a steamy kiss that no one was supposed to see.
Emotional story of Evie Windham, the fourth of the Duke's five daughters. Seven years earlier, at the age of sixteen, she had gone through two life changing events. One was an injury so severe that it was thought she would never walk again. The other left her unwilling to marry, but unable to confess why. Pressure is growing on her to pick someone to settle down with. Lucas has only recently inherited the title and is trying to get a handle on his estates and finances. He is also trying to gain custody of his niece, from the brother-in-law he despises. He knows he needs to marry, but picking the right person isn't going to be easy.
Evie and Lucas have known each other most of their lives. Lucas has long been a friend of her brothers and was a frequent visitor to her home. He also served in the military with two of her brothers. The previous Christmas, under the influence of a little too much punch, they had shared a rather potent kiss, but have avoided each other since. Then, at a society event, Evie protects Lucas from a persistent matchmaking mama and he later gets her safely home when she takes ill.
This is the beginning of a great friendship and an even greater love. They begin as co-conspirators, promising to help each other with their marital issues. Lucas knows that Evie isn't the wife for him, as he needs an heir and she wants a marriage without intimacy. As they spend time together, that pesky attraction keeps growing, until Lucas starts to realize that a marriage between them could work if he could overcome her fears.
Eve's traumatic past has crippled her emotionally and kept her from living her life. She was always horse mad as a girl, but since her accident she hasn't ridden at all, and even avoids driving out if she can. Lucas remembers her as she was, and wants to help her be able to move on with her life. He seems to know exactly when to push and when to back off. He shows her that she can trust him and lean on him when she needs it, but that he will also believe in her ability to stand on her own. I especially loved the scene where she visited the scenes of her trauma and Lucas was right there with her. His support helped her through it, and gave her one more reason to trust him.
Lucas is fighting his own demons. His beloved sister died in childbirth, after being pretty much sold to a rich Irishman by her father. He had promised her that he would look after his niece, but his brother-in-law has fought him on every front. Lucas will do anything it takes to gain custody of her, including taking Dolan to court, something that would create a huge scandal.
The attraction that Lucas and Evie feel for each other ends up putting them in a compromising position, which forces them to marry. Lucas is happy with the idea, but Evie is not, because of the secrets she has. Lucas ends up with some extra help in convincing her, in the persons of her parents, the Duke and Duchess of Morland. Lucas's patience and understanding show Evie that some of her fears were ungrounded, and they begin to settle in to life together. I loved seeing Evie grow in her confidence as Lucas's sensitivity helps her regain her love of horses. One of the best things about the story was the realistic progress of their romance. Though the attraction was immediate, their love grew slowly out of their friendship. I loved their conversations and how they showed their developing feelings. Their internal dialogues showed that their fears were still there.
However, communication still is not their strong point. Evie hasn't told Lucas about her secret, and believes that he does not suspect. And Lucas hasn't told her about his plans to gain custody of his niece. His plans and the way he goes about them throw a wedge between them that is hard to overcome. I liked the support and advice they got from the family, and how it helped keep them from making things worse. It took them awhile, but they did finally learn to trust each other and their feelings.
Lucas's fixation on his niece and her father tended to make him blind to other possibilities. Things really came to a head when Evie finds out. It was interesting to see how Lucas tried to solve the problem and how it nearly made it even worse. The horse race was an interesting solution. I could see where that storyline was going and wasn't surprised by what happened with the race itself. It was interesting to see how the conflict was resolved, and I now have high hopes for the relationship between the two men.
The part of the story involving Lucas's cousin Anthony was interesting. I had my suspicions about him and his attitude and wasn't at all surprised by what he was doing. I was rather disappointed by what didn't happen to him.
As always, the Moreland family is there to help and support each other. Even her deceased brother Bart has his moment. It was obvious how much they worried about Evie and how helpless they felt. It was fun to see the men try to help Lucas, and how oblivious he was until his feelings were engaged. I loved the full family presence at the end and their joy in Evie's success.