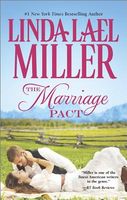 Series:
Brides of Bliss County
(Book 1)
Ten years ago, Hadleigh Stevens was eighteen and this close to saying "I do," when Tripp Galloway interrupted her walk down the aisle. Now that she's recovered from her youthful mistake and Tripp's interference, Hadleigh and her single friends form a marriage pact. She doesn't expect Tripp to meddle with her new plan to find Mr. Right -- or to discover that she's more attracted to him than ever!
Divorced and eager to reconnect with his cowboy roots, Tripp returns to Bliss County to save his ailing father's ranch. He's not looking for another wife -- certainly not his best friend's little sister. But he's never been able to forget Hadleigh. And this time, if she ends up in his arms, he won't be walking away!
Good book. Hadleigh still holds a bit of a grudge against Tripp for the way he interfered in her wedding ten years earlier. She realizes that he had saved her from making a mistake, but his methods were quite embarrassing. Now she and her two best friends are still single, so they form a pact to help and support each other in finding their mates. Hadleigh is ready to move on when Tripp returns and throws her plans into disarray.
Tripp has come back home to stay. He left home to go to college, then joined the military, later starting his own flight service. He had a very brief mistake of a marriage that ended almost as soon as it began. After finding out that his father is ill and needs help on the ranch, Tripp sells his business and comes home. One of the things he wants to do is repair his relationship with Hadleigh, his best friend's little sister. He feels badly about the way he handled things all those years ago.
Though their reunion was a little rocky, I liked the fact that they were adult enough to talk to each other and clear the air. It was interesting to see that, after some truthful looking at herself, Hadleigh realized she'd been a bit in love with Tripp for most of her life. It had started when she tagged along after him and her brother as a kid, became a teenage crush later on, but matured a little after her brother's death. Her realization of why she had agreed to marry another man stuns her, and has her rethinking her grudge against Tripp. Discovering that she's more attracted to him than ever puts a crimp in her plans to find Mr. Right.
Tripp accepted long ago that he hadn't handled stopping Hadleigh's wedding very well at all. He hasn't been able to forget her, even though she was his best friend's little sister. Seeing her again makes him realize that Hadleigh is who he wants to spend the rest of his life with. The trouble is trying to convince her. Since he is back home to stay, he is determined to be patient and find ways to show her that they belong together.
I liked watching them get to know each other again. Tripp is trying to be patient, but the chemistry between them is pretty hot. Hadleigh started out just wanting to get over her old crush on Tripp, but comes to accept that her feelings for him are real. She just doesn't want to risk another rejection by him, so she keeps her feelings to herself, even after their attraction takes off. I loved seeing her finally accept that their feelings were real and would last.
I also enjoyed the secondary stories and characters throughout the book. I loved seeing Tripp come home and how he was reconnecting with his stepfather. Though Tripp had been away for a long time, the need for his home had never stopped. It was great to see the two men together, and I loved their reminisces about when Tripp was a kid. Jim's love for Tripp's mother was also evident, and it had been a great example of what he wants for himself. I loved the bits with his dog and how it exposed another side of Tripp. The friendship between Hadleigh and her friends was great. I loved their pact and the way they supported each other. Their friendship also made them able to be brutally honest with each other, even when it caused problems. I also liked that they were able to deal with their problems in a realistic way. I'm really looking forward to the other two stories.