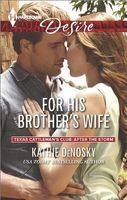 Series:
Texas Cattleman's Club: After the Storm
(Book 7)
The tornado that tore apart Royal, Texas, ripped Paige Richardson's world to shreds. She lost her husband, and she expected her husband's twin, construction tycoon Colby Richardson, to offer a shoulder to lean on. But instead, he's distant. Why? What happened to the closeness they once shared?
For years, Cole has kept his distance, but now he's staying on Paige's ranch while he helps the town rebuild. It's only a matter of time before the feelings -- and secrets -- he's hidden all come to the surface.
Very good book and excellent conclusion to the series. When the tornado hit Royal, Paige's husband Craig was one of the casualties. His twin brother came to Royal to help with the funeral, and stayed to help the town recover. Paige had hoped to be able to lean on Cole a little, but he hasn't been very available. She had thought they were friends, but now she wonders what is wrong.
Back in high school, Cole had been interested in Paige, but her parents wouldn't allow her to date until after she graduated. Cole was two years older and promised to wait until after graduation and ask her out then, but he never did. Instead, she was pursued by his twin brother, and when she ended up pregnant, they were pressured to marry by their parents. Cole had kept his distance ever since, rarely returning to Royal.
When it's time to do repairs on Paige's ranch, Cole ends up staying in the ranch house with Paige. This is very difficult for him because he's never lost the feelings he had for her, but he won't disrespect her by making advances. He believes her marriage had been a good one, and he won't disillusion her by telling her of what had caused the rift between him and his brother.
Paige had had a crush on Cole back in school and had been quite willing to wait for Cole to ask her out after graduation. But when he never followed through on his promise, she gave in to his brother's determined pursuit. Because of their parents' conservative views, she never really had a choice about marrying Craig, even though she didn't love him and was sure he didn't love her either. It wasn't much of a marriage, especially once she lost the baby that forced their marriage. Craig traveled a lot and she never got pregnant again. With his death, she has no real interest in marrying again.
Thrown together in the ranch house, both Paige and Cole discover that the old attraction is stronger than ever. Cole feels guilty about it, feeling that it is disrespectful to Paige, but resisting is nearly impossible. The attraction that Paige feels for Cole is far and above anything she ever felt for her husband. When a storm outside the house sets off a storm inside the house, they are powerless to resist. Regrets hit the next day, but it's too late to go back.
Both Cole and Paige spend a lot of time blaming themselves for what happened, and not wanting to admit that it was completely mutual. Cole's need to get his head on straight sends him out horseback riding, but he neglects to pay attention to what he's doing and winds up getting hurt. When Paige rushes to the hospital to check on him, Cole is full of painkillers and acting pretty silly. The fun continues at home as he recovers from surgery. The things he says under the influence have Paige thinking that maybe there's more than just attraction between them after all.
While he's laid up Cole comes across some information that shows just how much of a jerk his brother had been. It frees him from the guilt he had been experiencing about his feelings for Paige, and made him determined to show her how much he really cares. He is also equally determined that she never find out just how rotten Craig had been. But best intentions aside, Paige discovers a small portion of it, which makes her think she's been used all over again. It takes a very intent Cole to show her the truth and open up a brighter future for them together.
The epilogue takes place a year after the tornado, and we get updates on all the couples from the series. I loved seeing Royal's comeback and look forward to future visits.