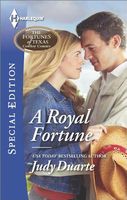 Series:
Fortunes of Texas: Cowboy Country
(Book 1)
His kingdom for a cowgirl
They go together like…chutney and barbecue. High tea and hot sauce. You couldn't come up with a more unlikely twosome than Jensen Fortune Chesterfield and Amber Rogers. So when the paparazzi catch the Fortune heir in a lip-lock with the free-spirited rodeo rider, Horseback Hollow goes wild. What is really going on here?
Princes only fall for commoners in fairy tales, but who could blame Amber for crushing on Jensen? The sweet cowgirl can see the bighearted man beneath that buttoned-up Brit. Could it be that the simple life of the Hollow is exactly what Jensen needs? If only she can find a way to get him to see how she truly feels…and rope this aristocrat for keeps!
Very good story. Jensen is visiting Horseback Hollow with his family, to be there for Christmas and for the birth of his sister's baby (
Fortune's Prince
) and several family weddings. He's a bit protective of his family and a misunderstanding makes the first meeting between Jensen and Amber a little rough. Once that's cleared up, there are definitely some sparks between them. But Jensen is British nobility, with commitments back home, and Amber is a Texas cowgirl with her own commitments. Nothing says they can't have some fun together while he's there.
I loved Amber. She's a former rodeo barrel racer who came home to help her grandmother when her grandfather died. She's put her own dreams on hold while she does so. While going back on the road isn't possible, there a new amusement park opening nearby that has an opening in their Wild West show that's just right for her. She's also a young woman who feels for her neighbor, Amelia, who because of who she is has paparazzi trying to get the scoop on her baby. Amber spots some of these photographers when she delivers a horse to the ranch, and in order to distract them when Jensen starts to say something about his sister, she kisses the stuffing out of him. It serves the purpose, but now they're after Jensen and Amber, looking for a story there. Amber is definitely attracted to Jensen, but she knows that nothing can come of it. She's certainly not the type that someone like Jensen needs for a wife.
It took me a little while to warm up to Jensen. His initial treatment of Amber was quite rude, but even after that was cleared up, there seemed to be an aloofness in the way he treated her. But there was one thing about Jensen that made Amber almost irresistible to him, and that was his fascination with anything Western. He loves old American Western movies, has watched rodeos online, and loves horses. He starts out just trying to be friends, but he's also really attracted to her. He wouldn't mind getting something going with her, but two things work against it. First, there are just too many differences between them for a relationship, and second, Amber is a settling down kind of girl and Jensen is about as anti-commitment as he could be.
The relationship that developed between Jensen and Amber was very interesting. They started out trying to be just friends, but the attraction was too strong. Even as they got to know each other better, there were still things that they didn't share. Jensen is pretty paranoid about the paparazzi and staying out of the limelight, so whenever they are together he tries to keep them out of the limelight. As a former rodeo star, Amber is fairly well known herself and doesn't mind when people come up and ask for autographs and pictures. There's a pretty funny scene when they're out to dinner and he thinks that people are staring at him when it's really Amber - a bit of an eye-opener for him. So he's trying to keep their relationship a secret from everyone. Meanwhile, Amber is about to sign a contract that will put her in the limelight, and make her the face of the new Cowboy Country. She hasn't told Jensen about any of it. When they take things to another level, both are determined to keep their emotions out of it, but it's a losing battle. When her plans come out, Jensen is hurt by her secrecy and says some things that aren't very nice, leaving Amber feeling like he's just been using her. She says a few things herself, before walking away from him. I liked Amber's chat with Amelia, but it's her grandmother that really gives Amber something to think about. But the best part was Jensen's "go big" moment which was a real heart melter. Both Jensen and Amber had to do some growing and changing to get their happy ending.
There was also a really sweet secondary romance involving Amber's grandmother and a real character of an older gentleman. I loved seeing the teasing that he did and the antics he got up to in order to give Gram a fun time. It was interesting seeing the effect this romance had on Amber, especially as it got further along. There are also hints that Jensen's mother may also have a romance brewing, though he seemed pretty blind to it. I'm looking forward to see if that progresses also.