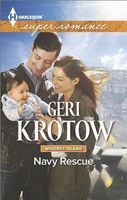 Series:
Whidbey Island
(Book 3)
She saved a baby, but can she save her marriage?
Navy commander and pilot Gwen Brett is shot down in a disastrous mission -- and survives six months in terrifying circumstances. She manages to escape with an orphaned baby she rescued and is determined to bring home.
Devastated when she was presumed dead, her ex-husband, Drew, is overjoyed by her survival. He offers Gwen and the baby a place to stay, to recover. Gwen accepts, convinced their love is gone. But almost losing her for good makes Drew realize he wants her back -- and Gwen feels the same…. However, this rescue might be the hardest one yet!
Very good book that kept me hooked from the very beginning. It starts with Gwen flying the mission that goes bad, and fades to black as we're left to wonder what happens. It picks up six months later as her ex-husband Drew learns that Gwen is alive. Not only is she alive, but he's apparently the only one who can help her reaclimate after her return. He's being asked to have Gwen stay with him, in the house that used to be theirs, something that will be incredibly hard for him. He's accepted that their marriage is over and can see where they went wrong. They've remained friends, but that's all they can ever be.
Gwen is stunned to discover that the doctors will only release her if she has someone to go to, and Drew is it. Though they've been divorced for five years, they worked hard to remain friends. Living together again was going to bring back memories, good and bad, of their marriage, and the guilt she feels for her part in its end.
I loved the realism of this story, as Gwen and Drew found their way back to each other through several obstacles. The biggest of these is their inability to let their past mistakes stay in the past and look at the people they are now. During the six months that Gwen was missing, both had faced the facts of those mistakes. Gwen had allowed her career focus to take precedence over their relationship, and Drew had allowed his focus on his studies to do the same thing. Gwen has admitted to herself that her priorities were messed up, and now that she has the baby she rescued to think about, she knows she wants to do things differently. Drew knows that trying to make Gwen leave the navy and fit in to his idea of the ideal life had been all wrong. As well as they know these things, both believe that a second chance is impossible.
Contributing to the stress is the fact that there was a death at Drew's physical therapy business and he is suspected of murder at worst or criminal negligence at best. He figures that even if he avoids jail, his business is done for, leaving him nothing to offer Gwen, even if they were to find their way back to each other. There is also a neighbor woman who has set her sights on Drew and is doing everything she can to make Gwen believe there is something going on between her and Drew.
I also liked the portrayal of the struggles that Gwen was going through as she got used to being back home. She has to get used to being around people again, and not having to be constantly on guard. Having gone through it himself, Drew is able to help her. I loved the part where he interfered just enough to get her back with the people she worked with, because she had been avoiding them. Her focus on trying to adopt the baby she rescued is also a big part of what she is going through.
One thing they have going for them is the attraction that has never gone away. They fight it, trying to convince themselves that it's just because they're living together, or that they never really gave themselves the necessary closure to their marriage. But in reality, as they get to know the people they are now, the attraction is just one part of the feelings that are growing between them. I loved seeing the hope that was starting to grow in both of them as they accepted their new closeness. The exposure of who was really behind the death at Drew's clinic was quite intense, especially when Gwen and the baby got caught up in it. I loved seeing them sit down and finally talk to each other about where they wanted their relationship to go, and how they were going to make it happen. The epilogue was a great look at how they were making it happen.
A nice bonus for me, as the wife and sister of Naval Academy grads, were the little bits of Gwen and Drew's (and Ro's) memories of their time as mids. It brought back some of the stories I hear my husband and brother tell.