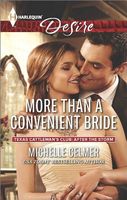 Series:
Texas Cattleman's Club: After the Storm
(Book 6)
After all they've been through following the tornado that hit their Texas town, there's no way Dr. Lucas Wakefield will let his best friend, Julie Kingston, leave because of a green card mix-up. The only solution is to propose marriage. But what starts as a platonic arrangement quickly blooms into red-hot desire -- until Luc's ex-fiancée returns to reclaim her man and Julie questions whether happily-ever-after is in the cards. Good thing Luc has no intention of giving up his passionate new bride without a fight!
Good friends to lovers story. Luc and Julie have known each other and worked together for years, and have developed an excellent friendship. Six months after the tornado that hit Royal, Julie has been told that her work visa will not be renewed and she will have to leave the US. Luc doesn't like that idea at all. She has become too important to him and his work. So Luc offers her a marriage of convenience. They will remain friends and coworkers, just with a little bit of show to convince their friends that it's real.
Neither expects the words "you may kiss the bride" to set off uncontrollable fireworks. Suddenly they have trouble keeping their hands off each other. But is this a case of friends with benefits, or is there something more going on?
Julie is cautious about getting involved emotionally with Luc. She doesn't want to ruin their friendship, and lose the home she has found in Royal. She has some trouble believing that someone like Luc could love her, thanks to some issues in her past. His ex-fiancee's arrival in town is a blow to her confidence, especially when it appears that he is spending time with her. So she keeps insisting that all they have is friendship and sex. She can't admit what she has with him until she is helped out by a very unlikely source.
Luc has avoided getting involved with another woman since the end of his engagement six years earlier. His fiancee hadn't liked how involved he was in his work and broke things off. Since his dedication to his work hasn't changed, he doesn't see marriage in his future, until Julie needs his help. He started out just wanting to help her, but that kiss at the wedding really blew him away. Suddenly he was looking at her a whole new way. It still took him awhile to realize that he loved her. He was also kind of oblivious to things that were going on around him. The arrival of his ex-fiancee as the mother of one of his patients threw him for a loop when she first arrived. Fortunately he quickly realized that he had no feelings left for her, but because of that he never thought to mention her arrival to Julie. I loved the way that his mother pointed out the error of his ways to him. Once he knew how he felt, trying to convince Julie became his goal.
I was really unsure about the presence of Luc's ex-fiancee, Amelia. There were times when she really seemed manipulative, and determined to get Luc back for herself, no matter what she had to do. There were other times when she appeared to be a worried mom, just interested in getting the best care possible for her son. And when she was around Julie, she was the sweet woman who knew she had done wrong and learned her lesson. I wasn't sure what effect her presence was going to have until the very end.
There were some pretty funny moments in the books that involved Houdini, the blind kitten that Luc gave to Julie. I loved the way that Luc had picked out the kitty because of what Julie had said about never having had a pet. It was really sweet of him. The kitten's antics were a bit of a mood lightener when things started getting intense.