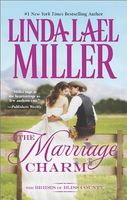 Series:
Brides of Bliss County
(Book 2)
The women of Bliss County have a pact -- to find husbands. The right husbands.
One already has: Hadleigh Stevens, who married rancher Tripp Galloway a few months ago. Now Melody Nolan thinks it's her turn. Melody has recently found success as a jewelry designer, and her work is the focus of her life. She's not exactly unhappy, but she wants more. She's always been attracted to Spence Hogan, the local chief of police, but she's convinced that Spence, a notorious charmer, isn't what you'd call husband material.
Spence is a good cop who isn't scared of anything -- except love. And he's done everything he can to preserve his reputation as a womanizer -- a reputation that keeps marriage-minded women, including Melody, at bay. And yet…there's something about Melody he can't forget. Something his heart can't ignore.
Good book. Now that Hadleigh has found her true love and married him, it's Melody's turn. Working on Hadleigh's wedding has brought Melody and Spence back together. Nine years ago she and Spence had been a hot and heavy item, or so she thought, enough that she actually proposed to him. She was heartbroken when he turned her down and moved on to pursue other women. Since then she has avoided him whenever possible, something hard to do in a town as small as theirs. Being forced together for the wedding has made her realize that there is still something there between them.
Spence had been in love with Melody back then, but she was only twenty years old. He felt that it would not be fair to her to tie her down, and forced himself to let her go. It was one of the hardest things he'd ever done, but he wasn't sure that he was ready either. He then moved on to date a lot of other women, always trying to find someone who could get Melody off his mind. This gained him the reputation of being something of a player. Spending this time with Melody has made him realize that she's the only woman he wants.
Spence is ready to see what they might still have together, and his opening move is a doozy. Melody is pretty ticked by what he does, but by the next day realizes she may have overreacted. I loved watching her screw up her courage and go apologize. What happened then was a bit unexpected, but became the motivation for them to see if they can overcome their past and have a future together.
I liked seeing them realize that they needed to get to know each other again. Melody has to see if she is able to trust Spence again. She's wary of opening her heart up to the risk of being broken again. She has a few instances of jealousy over his past behavior, but his current actions give her hope. Spence knows that it will be an uphill battle to win her trust again and he is determined to do it. He has some ideas that may be a little underhanded, but he hopes they will work.
I really enjoyed their times together, as the heat between them kept things moving along. One of the best things was getting the events from both their points of view. Melody's heart was engaged pretty early, and I enjoyed seeing the way she fell deeper the more they were together. It was especially fun to see the effect the trail ride had on her feelings for Spence. I loved Spence's protectiveness when Melody's house was robbed, and how he used that to get her to come stay with him. Seeing him deal with her cats was especially sweet, and I loved the attitude he got from his fellow cops. I liked being able to see the progression of his feelings as they moved closer to each other. I loved the ending, as Melody screws up her courage to risk it all, but still hangs on to what she really wants.
I loved the obvious friendship between the girls and also among the guys. Melody, Hadleigh and Becca have the sort of friendship that allows great support for each other, but also terrific honesty. I liked seeing Hadleigh and Becca encourage her to give Spence a chance, but also protect her if she wants it. I loved seeing them on the trail ride together. The friendship between Spence and Tripp is long standing, and they have no trouble including the new guy, Trent, into their group. I really loved the conversations between Spence and Tripp, where Tripp freely confesses that anything Spence says will be shared with his wife.
I also enjoyed the other secondary characters, especially Mrs. Arbuckle and Junie. Mrs. A was an interesting woman. I loved her kind of crusty old lady attitude, but she seemed to have a really good heart underneath. I loved her commission for the ring and the reason for it. It was also fun to see her get involved in the robbery mystery and how proud of herself she was. I liked Junie and the relationship she had with Spence. I loved her conspiracy with Melody about the robbery.
The bit of mystery in the story about the robberies that were plaguing the town was very good. At first it seemed like a small, secondary story line to show Spence in his role as police chief. But as it went on, it became an important part of the story. I did suspect the connection pretty quickly, but I didn't guess the perpetrator until the end. I loved seeing everyone get involved in trying to catch the crook. The end was quite satisfactory.