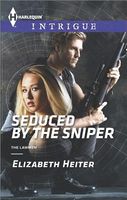 Series:
The Lawmen
(Book 2)
Zeroed in on one woman…
In a twenty-four-hour period, FBI negotiator Chelsie Russell's life changed. She was a promising negotiator for the Bureau, but then she failed to talk down a crazed gunman. A year later the killer has escaped, and sniper Scott Delacorte has stepped up to protect Chelsie. Scott is the FBI's most infamous playboy -- and the guy Chelsie had a one-night fling with just before the shooting. She'd dismissed him as the love 'em and leave 'em type, but now he stands between her and a killer. When the investigation takes an unexpected turn, powerful people become desperate to keep Scott and Chelsie silent -- dead silent. Chelsie knows it's time to put aside their past and trust this man who has the power to break her heart. Again.
Good book with nice balance of romance and suspense. Chelsie had gone out one night to celebrate becoming an FBI negotiator. She ran into her friend Maggie's older brother, Scott, a sniper with the FBI's HRT. She'd been attracted to him for awhile, and that night one thing led to another. The next day she was involved in a situation where she failed to stop a gunman, and the failure devastated her. She blamed herself, gave up her new position as a negotiator, and took a place with a team where she felt she wouldn't put anyone's safety at risk. She also ignored Scott and his attempts to see her again.
Scott was known as the guy who doesn't get serious with anyone. He'll have a date or two and move on. But in Chelsie he saw something that he'd like to spend time pursuing, only to have her refuse to see him anymore. He was persistent, but gave up after six months. After that, he kept trying to find anyone who would help get her out of his mind, but was unsuccessful. However, it just added to his playboy reputation.
When the gunman escaped from jail, it was suspected that he was coming after Chelsie, so she was placed in protective custody. Scott and his partner had volunteered, so he and Chelsie were forced into each other's company. Spending that time together, they had to face their history together and deal with it. The attraction between them is still strong and overcomes their intentions several times. There are a couple great scenes involving them and Scott's partner showing up at awkward times. But Chelsie is still looking at Scott as the playboy, unable to believe that he is willing to get serious with her. Both Chelsie and Scott have other issues going on that are holding them back. Chelsie is still dealing with the guilt of her failure and the loss of confidence in her abilities. Part of that guilt is rooted in her own past. Scott can see her vulnerability and tries to be patient, but eventually his frustration gets the better of him. He blasts her with what he sees as the issues that are holding her back, and is stunned when she gives as good as she gets with her own views of his issues. This makes them both realize that they must confront their own fears before they can have something meaningful together.
The suspense part of the story is very good with some interesting twists. I felt Chelsie's fear and unhappiness when she wasn't able to stop the shooting. A year later, when the gunman has escaped and he seems to be after her, she has her questions about why. When she sneaks away from Scott's protection and ends up in trouble, there is a lot going on that she has to process. The result has her insisting to Scott that she hadn't been in real danger, and that there is more going on than appears on the surface. The resulting investigation shows that she's right, and there's someone else behind it all. The closer they get to finding out, the deeper the danger is to them. Just when I thought everything was solved, another twist had Chelsie in worse danger. I loved seeing how she handled it. I loved the epilogue and how it wrapped things up.