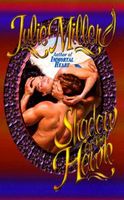 Series:
LadyTech
(Book 2)
A DANGEROUS FIELD TRIP
Sarah McCormick had one last shot at adventure. Resigned to the life of a spinster, the prim schoolteacher planned to lead five teenage girls to the shadowy isle of Tenebrosa. There, in a tropical paradise, they would study an ancient people and perhaps learn something about themselves. But a mountain of a man upset her plans--a handsome Indian who claimed she and her students would be in peril. And when the virile ex-Marine swore to protect them, Sarah wondered what's in jeopardy--her body or her heart
LESSON IN LOVE
Hawk had to admit that he longed to be enlightened by the brainy beauty. He'd seen the shy schoolmarm cut a man to ribbons with her sharp tongue, and he was haunted by visions of schooling her lush, surprisingly soft lips in passion. He'd touched her only as a protector, but in those moments he'd discovered how delicate and decidedly feminine her long, lithe body was. Now, threatened by an evil as old as Tenebrosa itself, Hawk knew that her kiss could stave off the shadows and their love could light the way to paradise.
Good book with terrific chemistry between the hero and heroine, and some really spooky stuff going on also. Sarah has been stuck in her small hometown for all her life, thanks to taking care of various family members. When she is offered the chance to take five of her students on an archaeological field trip to a Caribbean island, she jumps at it. It will be a great learning experience for her students, and the chance of a lifetime for her.
Hawk was very disturbed when he learned of the upcoming trip. He had been on Tenebrosa several years earlier on a military mission. There his unit lost one of its members - the man had disappeared completely. Hawk is haunted by his failure to find him, and the sense of evil he had felt on the island. If he can't stop Sarah from going on the trip, he will go along and try to protect them.
Though their first meeting is rough, Hawk comes right out and tells Sarah that the trip is a bad idea, there is something that draws them to each other. Hawk is protective, and is there when Sarah is accosted by her ex. I really liked seeing him intimidate Walter. Sarah isn't quite sure what to make of Hawk's actions given his objections to her plans. There is something about him that both appeals to her and scares her. Sarah is inexperienced with men and her ex did a number on her confidence around them. Hawk is a Native American who is also a shaman. He is experienced in reading people and sees Sarah's vulnerabilities. He is attracted to her, but has had enough bad experiences with women that he sees no chance of any relationship between them.
The group's arrival on Tenebrosa immediately confirms Hawk's worst fears. He feels an evil presence and worries about the safety of Sarah and her students. His worries are compounded by the men leading the expedition, who don't appear to be as professional as they expected. Upon arrival at the dig site, Hawk is caught up in a trance that nearly turns deadly for Sarah when she tries to pull Hawk out of it.
Though Sarah is excited about the trip, once they arrive she begins to get an inkling of what Hawk had been trying to tell her. Some of the men running the expedition seriously give her the creeps, especially when one of them tries hitting on her. She is grateful for Hawk's presence and protection. She is also drawn to him in a way she doesn't understand, having never experienced it before. Her confidence in herself and her appeal to the opposite sex is nonexistent, thanks to the ex, who constantly put her down because of her inexperience. She tends to blow a bit hot and cold with Hawk, because those doubts will intrude just as she and Hawk start to get closer. One of the things I did like about her is the way that she came to accept Hawk's abilities and that she didn't withdraw from him because of them.
When Sarah discovers that the expedition is merely a cover for the leaders to steal the treasure from the tomb, they are all placed in danger. Hawk is knocked unconscious, Sarah and the girls and the teenage boy from the leader's group are abandoned in the jungle to die. At this point, Sarah discovers a well of strength she didn't know she possessed. With Hawk's help, the group begins their trek out of the jungle.
The presence that Hawk has felt, and been possessed by, is determined to protect its treasure. It follows the trucks driven by the bad guys, and the things that happen are chilling. It is focused on them, but has a connection to Hawk. Because of who and what he is, Hawk feels a responsibility to send the presence back where it belongs. That scene is intense and scary and also incredibly moving as, once again, it is Sarah who pulls him back from the edge.
I loved Sarah's return home and the new confidence she has in herself. The scene at the town meeting with her ex was fantastic and showed just how far she has come. I also liked Hawk's return, and how he has finally let go of his past enough to go after a future with Sarah.