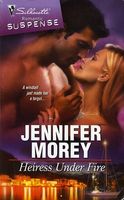 Series:
All McQueen's Men
(Book 2)
He was a sniper and a gentleman...
Though heiress Farren Gage exuded a sensuous femininity that made him ache, Elam Rhule didn't need another notch on his belt. He had to eliminate a target and prevent a terrorist attack. Besides, he couldn't fall for another delicate beauty. Farren was wrong for him. Completely wrong.
Farren hadn't traveled to Turkey to find love. She'd come to discover why some foreigner wanted the millions she'd just inherited. So getting involved with an on-the-go sniper who operated outside the law was out of the question, right? Wrong. As their mission heated up so did their desire, and it looked as though two wrongs might just make the most perfect right....
Good book, with a theme that's all too real in today's world. Farren is an electrical engineer, happy in her work, but not so happy in her personal life. She has just inherited millions of dollars from a mother who abandoned her when she was four. Now she has a foreign sounding man threatening her life if she doesn't turn three million dollars over to him. After going through her mom's things, she discovers that she was going to go to Turkey for a yacht festival, and decides to follow up and see what she can find out.
Shortly after arriving in Turkey, her yacht is hijacked. Certain she is about to die, she is rescued when Elam Rhule arrives on board and kills her attacker. Wary of him and why he was after her kidnapper, it takes a bit before Ferren tells Elam why she was targeted. Once he hears her story, he realizes there's more going on than his employer had believed. Elam works for a covert group, and was chasing after a man who was setting up terrorist cells. He's determined to keep her safe while he finds out what is happening.
There is an immediate attraction between Elam and Ferren, but both are determined to fight it. Elam had been married before, to a woman just as beautiful and delicate as Ferren. She hadn't been able to handle his life as it was, and left him. She died in an accident before Elam could even try to repair his marriage. Now he avoids relationships and sticks to strong, military types of women for his dating. Ferren has a bad record with men, realizing that she tends to jump into relationships quickly, without knowing the men very well. Thanks to her mother's abandonment, Ferren grew up in foster care, and has been searching for a family ever since. She wants to find a man who will have a normal job, love and care for her and any children they have. There's no way that a man who travels the world, ready to kill, would be the kind of man she wants.
The relationship that developed between Ferren and Elam was very interesting. Ferren can seem like a dumb blonde at times, especially when she does things that end up getting her in trouble. She talks a lot when she's nervous, and of course, Elam makes her nervous. She's attracted, but he's nothing like what she wants in a man, but she feels safe with him. I liked seeing her show her intelligent side, demonstrating to Elam that she's much more capable than he thinks. Ferren's feelings for Elam start to grow, and she wonders if perhaps he's right for her after all. I enjoyed seeing Elam as he tried to deal with Ferren. His protective side kicked in quickly, as he found out about the danger she was in. He's attracted to her, but fears getting close because of what happened with his wife. It took him awhile to see past Ferren's beauty and constant chatter to the woman beneath. I liked seeing the way he came to enjoy her chatter, and see that the stories she told had a point, even when she didn't realize it. He fought it hard, but he did fall. I loved seeing the process of him finally seeing that they belonged together, and the way he showed her how he felt. The parts that his teammates played in the whole thing were fun to see.
The suspense part of the story was very good. Arms dealers and terrorists are such a part of today's world that the events felt pretty realistic. I liked seeing the way that Ferren's and Elam's paths intersected and how they pursued the details. Ferren's second abduction and Elam's pursuit was really intense and definitely had my heart pounding until it was all over. There was a very interesting twist involving one of the players and it added an extra layer of tension to the final showdown with the bad guy.