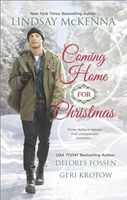 Christmas Angel by Lindsay McKenna
When Navy SEAL Kyle Anderson gets a call saying Anna Campbell needs him, he doesn't think twice. On the Montana ranch where they grew up, holiday magic permeates every acre, kindling long-awaited love. But will duty trump desire?
Kyle and Anna had grown up together on the Montana ranch where his father was foreman. They started out as friends, but grew to love each other as they got older. They talked about plans for their future together, but when Kyle was eighteen, he left the ranch for the Navy SEALs. On a visit home when he was twenty-two he proposed, but Anna turned him down, unable to face the kind of life they'd have away from the ranch. Heartbroken, Kyle left, cutting off all contact with her. Seven years later he learned that she's been critically injured in an accident, and he goes back to help her.
Seeing each other again is both amazingly easy and incredibly hard. The love they have for each other is still there but can they overcome the hurts of the past? I loved seeing the way that Kyle was so determined to help Anna recover. His feelings for her were as strong as ever, and with maturity he has begun to realize what is most important in his life. Anna had tried moving on past her feelings for Kyle, but it hadn't worked out and had only made things worse. I loved seeing them reach out to each other, sharing the changes in their lives, and wanting to make things work.
Unexpected Gift by Delores Fossen
Tailed by a camera crew, Air Force Captain Gabe Brenner returns to Texas to deliver a Christmas message to his best friend's sister Kelly Coburn. But she's had her own delivery: beautiful baby Noel - Gabe's daughter.
Gabe and Ross Coburn had been friends for a long time. Ross's younger sister had had a crush on Gabe for almost as long, but as Ross's little sister, Gabe had never looked at her that way. A least not until last Christmas, when shared worry over Ross and a little too much to drink had them taking comfort in each other's arms. When Kelly discovered she was pregnant she didn't tell Gabe, not wanting him to be distracted while he was in a combat zone.
Fast forward a year and Gabe has come to deliver a Christmas gift to Kelly from her brother. He's met there by a camera crew, who is there to film the event (The crew was notified by Ross, and it was never explained why). Gabe is stunned to discover that Kelly has had his baby and that he knew nothing about it.
Kelly had meant to tell him but could never quite figure out the best way to do it. Now the two of them have to decide what to do. Kelly had never thought that Gabe would be interested in being a father as he is known for being a bit of a player. She's surprised by how quickly Gabe takes to fatherhood, and his sweetness with baby Noel only deepens her love for him.
Gabe can see no other solution than for he and Kelly to marry as soon as possible. One obstacle is that she doesn't want to leave her small town home and Gabe's Air Force duties take him all over the world. And while Kelly knows that she's in love with Gabe, she has no idea if he feels the same way, and she doesn't want to marry for anything but love.
Ross's surprise arrival creates some stress with his reactions to what he finds. It also forces both Kelly and Gabe to face their fears and decide what they really want. I really enjoyed the Christmas presents and what each one meant to the recipients.
Navy Joy by Geri Krotow
Series: Whidbey Island (Book 3.5)
Chief Petty Officer Ian Cairne arrives stateside for Christmas with a four-legged friend: his late buddy's military service dog. Fortunately, the beautiful town vet Wendi Cooper is willing to take this odd couple into her home - and her heart.
Ian has arrived back on Whidbey Island, grieving the loss of his best friend. With him is Integrity, his buddy's military dog. Unfortunately, his house is uninhabitable thanks to a broken water pipe and he needs a place to live that accepts dogs. Local veterinarian Wendi has a guest cottage on her property that she's willing to rent to him for as long as he needs. Wendi is suffering herself, having recently lost her twin sister and becoming guardian to her three year old niece.
Both Ian and Wendi feel an immediate attraction, but neither feels ready for a relationship. Ian is grieving, trying to bond with the dog, and doesn't allow himself to get in too deep with women anyway. As a military guy long separations are hard on relationships and he hasn't had good luck. Wendi has had a few relationships with military guys and they haven't worked out. The last one ended when the man moved on to another woman. Now that she has Emma, she feels that she doesn't have the time necessary to make a relationship work.
I loved seeing the way that Ian and Wendi connected. First through Wendi's knowledge of dogs and the things that Ian needs for Integrity. She also recognizes Ian's grief, as she's experiencing the same thing. She can't help reaching out to him. Ian is drawn to Wendi, though he tries to resist. The warmth of the life she has created with Emma is far different than what he had as a child and it is immensely appealing. Over the next few weeks, as they are thrown together, the attraction grows stronger and the connection deeper. I loved Christmas Eve and Ian's gift was adorable.





I enjoyed all three stories. Each was a wonderful example of the kind of thing a military member faces around the holidays. I loved seeing each of the heroes find a home for his heart also.