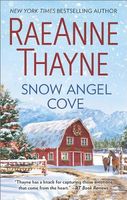 Series:
Haven Point
(Book 1)
Nothing short of a miracle can restore Eliza Hayward's Christmas cheer. The job she pinned her dreams on has gone up in smoke -- literally -- and now she's stuck in an unfamiliar, if breathtaking, small town. Precariously close to being destitute, Eliza needs a hero, but she's not expecting one who almost runs her down with his car!
Rescuing Eliza is pure instinct for tech genius Aidan Caine. At first, putting the renovation of his lakeside guest lodge in Eliza's hands assuages his guilt -- until he sees how quickly he could fall for her. Having focused solely on his business for years, he never knew what his life was missing before Eliza, but now he's willing to risk his heart on a yuletide romance that could lead to forever.
Wonderful start to the new series. Eliza has come to Haven Point to start a new job as a hotel manager only to learn that the hotel has just burned to the ground. With no job and no home, she's not sure what she's going to do. As she and her daughter are crossing the street, she is hit by a car that hit a patch of black ice. Aidan is horrified by what happened, and how much worse it could have been. As he takes Eliza and her daughter back to his home for the night, he wonders what he can do to help. With his family coming to visit for the holidays, he hits on the idea of asking Eliza to help get his huge new home ready for his family.
Eliza isn't too sure about accepting the job. She's very wary of Aidan. Unknown to him, her husband had died, possibly intentionally, after unsuccessfully trying to sell a software idea to Aidan's company. Her husband had been obsessed with trying to make as much money as possible, but took so many risks he ended up leaving Eliza in poor financial shape. She is now wary of anyone she thinks is more interested in money than people. But she is desperate for employment that will give her what she needs to support her daughter, as she has learned that she can only depend on herself for what she needs. The more time she spends with Aidan, the more she discovers that he is very different from the man she thought he was. She's attracted to him, but even more than that, she sees a man who is in need of someone to love him and show him how to reconnect with the people around him.
Aidan is the middle child in a large family (the Caines from
Hope's Crossing
) but has always been the different one. The family is big and outgoing, where Aidan was always the quiet, focused, bookish one. After he graduated from college and started his business, he found himself working long days and pushing his relationship with his family into the background. In the last few years he has seen them only a few times during the year. After a recent health scare, he has realized that he wants to be part of the family again, but he's not sure how to accomplish it. With the purchase of his huge home, he came up with the idea of having them all visit for Christmas, but now he's beginning to wonder if it was such a good idea. Though he offered the job to Eliza out of guilt, he quickly comes to see her as far more.
I loved seeing Eliza and Aidan together. The attraction between them is strong, but both are wary about getting involved. Eliza's initial dislike of Aidan is quickly overcome as she sees how nice a guy he really is. Once she learns about his medical issues, she starts to understand his motivation for his holiday plans. I loved seeing her fuss over him, but also not pull any punches when she doesn't agree with something he does. One of the things that really softens her attitude toward him is seeing how wonderful he is with her daughter. She starts to fall for him, but doesn't see any possibility for a future between them.
Aidan sometimes seems like a bundle of contradictions. He really is a nice guy, but his people skills are sometimes a little lacking. He is much more comfortable with computers than with trying to figure out emotions. He really wants to reconnect with his family after his health scare, but he also doesn't want to tell them about it. He's not really happy when Eliza tells him that he's an idiot for shutting them out. Though he had hired Eliza out of guilt and wanting to help her, the more he's around her the more he discovers that he needs her. That need sometimes scares him into pushing her away, but he can't maintain the distance for long. He has a hard time expressing his feelings, but with her help he gets better at it. I loved the way he went about trying to show her how he felt. His Christmas surprise for her was terrific.
As always with RaeAnne Thayne's books, family is a central theme. Aidan's love for his family is obvious in everything he says and does as he tries to get his house ready for their visit. I loved hearing him tell Eliza all about them. Their love for him is just as obvious, both in their treatment of him, but also the teasing among them all. I loved the way his sister and sisters-in-law all noticed the changes in him and tried to get Eliza to say something about it. I loved seeing them all together for Christmas, and how Aidan finally saw the truth of what Eliza had been telling him about confessing to his family.
I'm really looking forward to reading more about the town and people of Haven Point. I liked the way that they so quickly made Eliza part of the community. Her acceptance also started to pave the way for Aidan. Most of the people weren't very nice to him at all as they waited to see what he was going to do with all the property he now owns. I liked the way that Eliza used what she learned to explain to Aidan what was happening with the town. I expect the stories for the people of Haven Point are going to be just as wonderful as those about Hope's Crossing.