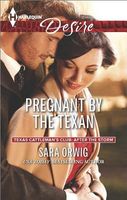 Series:
Texas Cattleman's Club: After the Storm
(Book 3)
When folks think of Stella Daniels, they think unassuming, even plain. But after a devastating tornado hits Royal, Texas, Stella steps up and leads the recovery effort. That's when she attracts the attention of construction magnate Aaron Nichols -- and a surprising night of passion ensues.
Aaron sees something special in the no-nonsense admin, and he's more than happy to bring her out of her shell. But when he discovers Stella's expecting his child, can he overcome his demons to be the hero this hometown heroine really needs?
Very good book. Stella has been in the background of the previous books, quietly going about the business of tornado recovery. She is the mayor's administrative assistant and while he has been critically injured she has stepped up to do what needs to be done. She doesn't see herself as doing anything special. During the early cleanup efforts she met Aaron and something sparked between them, resulting in a memorable night together, something that she doesn't usually do. She doesn't see a future in it, and lets him know that she'd rather forget about it. Six weeks later she discovers that she won't be able to.
Aaron was drawn to Stella from the beginning. He sees beauty under the plain clothes she wears, and a giving heart that encompasses everyone. He'd like a chance to experience more of the passion they had the last time they were together. But before he can make his interest known, he finds out about her pregnancy. Being an honorable man, he proposes right away, wanting to give Stella and the baby everything they deserve. He's surprised when Stella turns him down, but she wants love along with marriage and feels that love is not in the equation.
I liked that Stella had the fortitude to stick to her desire to marry for love. Her parents hadn't loved each other and it made for a miserable childhood for her and her sister. She sensed from the beginning that there was something holding him back. Since she knows that they will be connected forever thanks to the baby, getting to know him better is important to her and she hopes that eventually he will open up to her. Meanwhile, Aaron hopes that he can convince Stella that passion and compatibility will be enough for a good marriage. Seven years earlier he had lost his wife and son in a car crash and the pain he still feels has him certain he will never love again.
One of the things I loved about Aaron was that he saw so much more in Stella than she did in herself. She doesn't see the work she's doing for Royal's recovery as anything special, but he can see how much she gives of herself. He is determined to make her see just how wonderful she is. Though at the beginning he seems very pushy about forcing her outside her comfort zone, it's not long before she is doing everything he knew she could. I loved the way that he supported and encouraged her, and the pleasure he took in her success.
With as much time as they were spending together, the passion between them only grew. Stella found that, as she expected, her feelings for Aaron only got stronger. But without him returning her love, she can't bring herself to commit to a marriage between them. Aaron discovered that when he was with Stella, the pain of his losses wasn't as great, but couldn't see that he was in love with her too. It wasn't until she started to withdraw, to protect her own heart, that he realized the depth of his feelings. I loved seeing what he did to show her just how special she was.