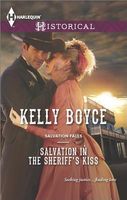 Series:
Salvation Falls
(Book 2)
The man she could never forget
Back in Salvation Falls after seven years in Boston, Meredith Connolly has transformed into a sophisticated businesswoman with two goals in mind:
1. Prove her father, who died in jail, was innocent and unmask the real culprits.
2. Avoid Hunter Donovan, who broke her heart and ran her out of town.
But to achieve her first objective, Meredith will have to sacrifice her second. Because Hunter is the town's sheriff, and that means there's no escaping him -- or the way he makes her feel!
Good story. After seven years away, Meredith has decided it's time to come home. She had left town after her father was sent to prison for something he didn't do. And instead of the man she loved standing by her, he forced her to leave town, breaking her heart. The aunt she lived with in Boston has died, and when she learns her father has also died she is determined to return and prove his innocence. She'd like to do it without having to see Hunter again, but it's a small town and he's the sheriff.
Hunter has been the sheriff since the death of the previous one seven years ago. He takes protecting the people of Salvation Falls very seriously. When the previous sheriff was dying, he said something that made Hunter believe that there was more behind the trouble with Meredith's father than had been discovered during the trial. He's been haunted by that and his treatment of the woman he loved ever since.
Meredith's return stirs up a whole bunch of trouble. One of the other men involved has been captured and is awaiting trial, increasing interest in what he might know. Shortly after her return, Meredith's room is ransacked, as the bad guys search for evidence they think she has. In spite of their past, Hunter is the only one that she feels safe with.
Just being near each other again, Hunter and Meredith realize that their feelings haven't changed. But Meredith is wary of trusting Hunter again, after the cruel way he treated her the last time. However, the more time they spend together, the more she sees of the man she loved and not the one who treated her so badly. Hunter can't hide the way he feels about her, and hopes that this time things will work out for them. But if they can't figure out who's behind the trouble, history may repeat itself.
Though their reunion started out rough, I liked the way that Hunter and Meredith were able to start talking to each other. They worked well together as they tried to figure out just what Meredith had and what it meant. Meredith had matured into an intelligent and independent woman, one who wasn't going to allow Hunter to shut her out of what was happening. Hunter had done what he had in the past to keep her safe, and he was willing to do what was necessary again. As things became more dangerous, was Hunter going to make the same decision, and would Meredith be able to forgive him if he did?
The mystery of who was behind Meredith's father's trouble was well done. One of the players really wasn't much of a surprise, nor were his motivations. I enjoyed seeing Meredith and Hunter work together, though there were also times they shut each other out. If they hadn't done so, some of the danger could have been avoided. The final confrontation was quite intense, though I would have liked a little more information about what happens to the bad guys who are still missing. I did enjoy the final chapter and seeing how Hunter and Meredith work out their differences.