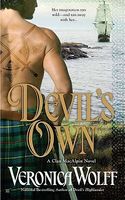 Series:
Clan MacAlpin
(Book 2)
Fifteen years after he was kidnapped and sold into slavery, Aidan returns to Scotland to find the home he knew long gone. His mother, a proper education, a chance at love -- gone. All he has now are dreams of vengeance…
Only one woman could restore his tormented heart.
Aidan MacAlpin appreciates the hospitality of his brothers and sisters, but after surviving hell on earth, they feel more like strangers than kin. They could never understand his one ambition: To exact bloody revenge on the bastard who enslaved him all those years ago…
Elspeth Farquharson had already resigned herself to the life of a spinster when she's hired to tutor dark, brooding Aidan -- a real-life hero more enticing than any from her adventure books. If only she could convince this tragic rogue that she's not the nervous, stuttering bookworm she appears to be. But when Aidan shows her a clue to his tortured past, she'll be thrust into a dangerous game of passion and deception that will awaken the sexy heroine within -- if it doesn't kill her first…
Good sequel to
Devil's Highlander
. Aidan returned to Scotland just in time to help his brother Cormac, and is now trying to cope with being back. After thirteen years away, he no longer knows his family members, and their hovering is driving him demented. All he can think about is finding and destroying the man responsible for his captivity. But in order to do that he has to be able to act the part of a man who wants to get into the slaving business - hard to do when you can't even read.
Elspeth is a young woman who has given up on finding love of her own. Instead she spends her days running the small farm where she and her father live. Her father is incompetent and spends his days drinking and thinking up ways to get rich quickly, leaving her to do all the work. Her only happiness comes from the adventure stories she loves to read. When her friend comes to her and begs Elspeth to tutor her brother Aidan, she can't resist. Aidan is much more interesting that any book hero.
I have to admit that Elspeth irritated me for most of the book. Her mind kept wandering to made up fantasies involving Aidan and herself, causing her to be easily flustered. She's really very smart, and intuitive when it comes to Aidan, but also very naive about what the world is really like. She constantly expects things to be like one of the stories she reads. I did like the way that she was determined to help Aidan learn and worked hard to make it happen. As she learned more about why he needed to learn to read, she was determined to help him, whether he wants her help or not. Her naivete has her walking into all kinds of trouble. Her heart is in the right place, but her methods are dangerous.
Aidan's quest for vengeance has him angry all the time. He is frustrated and embarrassed by his lack of education, but knows that learning is the only way to get what he wants. At first he sees Elspeth as something of a boring and colorless means to an end, but it isn't long before he sees signs of passion under the quiet facade. I loved seeing him tease her, trying to get the spirit to show. He soon discovers that her quiet intensity soothes the anger in him, making it easier for him to concentrate on what he needs to do. He tries to keep her out of his business, but finds that she's much more tenacious than he first gives her credit for. Trying to protect her just makes her more determined to be involved.
I really enjoyed seeing their relationship develop. Elspeth knew what she wanted and was determined to get it, but Aidan was equally determined to resist. He feels that he is too damaged to be a suitable husband for her, and she is determined that he should see that he is a far better man than he thinks. Some of their encounters are pretty funny, and some are simply heartbreaking. And when she gets into some real trouble, Aidan is the only one who can save her.
Aidan's quest for revenge is understandable. What we learn about his life is certainly motivation for it. Without the ability to read, pursuing it is much more difficult. I liked following what he and Elspeth did, and seeing how they put together what they learned. The way it all came together was very nervewracking and I wondered if all the bad guys would get what was coming to them.