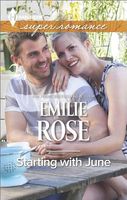 Series:
Quincey North Carolina
(Book 3)
Resisting June may be his toughest job
Investigating small-town police corruption has never been on former Marine Sam Rivers's radar. Still, taking this assignment gives him the opportunity to figure out what's next after his medical discharge. The task should be a straightforward one. That is, until he meets Deputy June Jones. Almost instantly the warm, sexy woman occupies his thoughts. For a man who craves solitude, suddenly he can't get enough of her.
He also can't forget his reason for being in Quincey, North Carolina. As his investigation progresses, it threatens his secret relationship with June. But can he turn his back on all the love and hope she offers?
Fantastic book, with characters that have realistic emotions, dreams and lives. Sam was a sniper in the Marines until a career ending injury forces him out. He's determined to overcome the injury and get back in, but in the meantime a friend has asked for his help. Roth (
A Better Man
) is now the police chief in a small North Carolina town. He recently discovered that one of his deputies was a dirty cop, and is worried that there may be others. He wants Sam to come work for him, undercover, and check out the other officers. Sam plans to get in, do the mission and get out as quickly as he can.
I ached for Sam. All he has wanted was to follow in his dad's footsteps as a career Marine. Now he's lost, has no idea what he can do outside of the Corps, and is feeling pretty useless. Working for Roth will give him time to see if his vision problems will heal. Sam is also a loner. He has a family that loves him, but he grew up avoiding making attachments. Frequent moves made making friends difficult, and seeing his mom worry about his dad made him reluctant to form any relationships with a woman. He hasn't told his family about his injury, not wanting them fussing over him. He hasn't even told them he's out of the Marines.
On his first day in town he meets June, his neighbor. Being a good Southern girl, she has a welcome basket for him, and tries to be nice. He mistakes it for something else entirely and is quite rude in rejecting her "advances", only to discover a couple days later that she is a fellow deputy. That discovery doesn't sit well with either of them, especially when Roth assigns her to be Sam's trainer. I have to say that that first day together was pretty fun to read. Sam is uptight, by the book, and very intense. June, having grown up in Quincey, knows everyone and has her own style of dealing with miscreants. Sam is a very private kind of guy and June's determination to introduce him to everyone, and their interest in getting to know all about him, drives him nuts. Add in their completely different approaches to two kids egging cars, and their time together was pretty explosive. I did enjoy his conversation with Roth about the effectiveness of her methods.
June had always wanted to be a cop. She moved away from Quincey to do her training in Raleigh, but came home after falling in love with a man who turned out to be married. Bitterly ashamed, and then reviled by her overly righteous preacher father, June has been doing her best to prove to him that she deserves his love. As the middle child in her family, she has also been the peacemaker and negotiator, a talent that has come in handy in her job. Dealing with Sam is something else entirely and when a shooting competition gets heated, so does their blood and attraction spirals almost out of control.
Assigned to work together on a car theft case, Sam and June find themselves fighting a losing battle against their attraction. As coworkers, they can't be involved. Sam makes it clear that he doesn't do any kind of commitment, and June is afraid of what would happen if her father found out. But they agree to a no strings, secret relationship, keeping emotion out of it. Of course, that doesn't ever work, and June soon finds herself head over heels for Sam. She'd like nothing more than to show him that he has so much to offer if he would just allow himself to care. Sam also finds himself feeling things for June he's never felt for anyone before, but he still sees himself as useless and no good for her.
I loved the way that June tried to show Sam that he was more than a washed up sniper. She introduced him to people that could help him if he would allow it, and if he could lose his tunnel vision about his abilities. I loved her straight talk, and the way she echoed what others had told him. Her growing feelings for him make her discovery of his true reason for being in Quincey that much harder for her to take, and she is hurt and angry and devastated by what she sees as his betrayal.
Sam's own feelings go through so many changes he is left reeling. June has become more important to him than he is comfortable with. He has to decide what to do about his future before he can even think about being more to her. He also has to take a hard look at what she told him about the importance of family and face up to that as well. As he runs from Quincey and his demons, he does do one thing that I absolutely loved - he goes to see June's father, and what he says was fantastic. I loved seeing Sam get himself together, and his "go big" moment at the end was sweet indeed.
One of the greatest things about this book was the real look at the problems the military members face when they leave the service, especially those who planned to make it their career. Civilian life is far different and the transition can be very difficult. This was portrayed extremely well.
My only complaint with the book was my never ending one with the editors/publishers at Harlequin. They refuse to accept that Marine, Marines, Marine Corps, and Corps are ALWAYS capitalized, and it is disrespectful not to do so. As Ms. Rose has a very close connection to the Marine Corps, I know the fault was not hers.