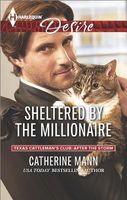 Series:
Texas Cattleman's Club: After the Storm
(Book 2)
Texas tycoon Whit Daltry has always been a thorn in Megan Maguire's side, especially when he tries to put the kibosh on her animal shelter. But when he saves her daughter during the worst tornado in recent memory, Megan sees beneath his prickly exterior to the hero underneath. Soon, the storm's recovery makes bedfellows of these opposites. Until Megan's old reflexes kick in -- should she brace for betrayal or say yes to Whit once and for all?
Good story. There has been a lot of conflict between Megan and Whit from the beginning. Whit admits that he was attracted to her from the time they met, but because of their conflict over some land, she has given him the cold shoulder for three years. Megan is the director of the local animal shelter and Whit had blocked the purchase of the land she wanted for the new shelter, causing her to settle for a different location that wasn't as good. Megan also has issues with some of his business practices, which only adds to her dislike.
On the day of the tornado Megan is trying desperately to get to the daycare where her daughter is. When her car is hit by a falling tree, she gets out to walk the rest of the way. Whit sees her and uses his truck to drive her there, where he also helps rescue some of the kids who are trapped. Megan sees a different side of the man she has detested and when a kiss of gratitude turns heated she's not sure what to do.
Megan has devoted her life for the past four years to the shelter and to her daughter. Evie's father bailed as soon as he found out Megan was pregnant so she's been on her own. That reminds her of the fact that her father also deserted her and her mother when she was young, so she doesn't expect men to stay around. She avoids dating and involvement, claiming that she doesn't want her daughter hurt by people moving in and out of her life. But Whit is making a determined pursuit of her and she's finding it very hard to resist.
I liked Megan and Whit, though I did get a bit frustrated with Megan. I loved her devotion to the shelter and admired her environmentally conscious behavior. But she tended to be a bit judgmental about Whit and his actions. Instead of enjoying being with him at his house, she fusses at him about his lack of recycling. She also looks down on his land purchases and what he does with them. On the other side, she really appreciates his help with the animals at the shelter and the way he gets others to help. She begins to see that there is a nice guy under the surface of the businessman. Even though she falls for him, she keeps a part of herself closed off, wanting to protect her heart because she knows he won't stay. I wanted to shake her when she refused to listen to him about a purchase he made, making a judgment before she had the facts.
I loved Whit. He had overcome a rough childhood, where his parents were constantly on the move. His father couldn't keep a job, so they were constantly skipping town. When he became an adult he swore that he would find a place to put down roots and build a life different than what he'd had. Now he has plenty of money, a debt free life, and a house he loves. He had been attracted to Megan from the time he met her, but because of their conflict had never pursued her. When the tornado throws them together, he takes the opportunity to spend some time with her and try to overcome her objections. He was wonderful with Megan's daughter Evie from the very beginning. I loved seeing him play with her and try to help her with her fears since the tornado. I loved what he did with the therapy dogs and how he was trying to help Evie and Megan. He is also very patient in his pursuit of Megan, even when she makes advances to him. He wants more than just a physical relationship and makes his plans accordingly. He's sweet and romantic and tries hard to put her fears to rest. I ached for him at the end and was happy when Megan finally saw what an idiot she had been.
I liked seeing the way the people of Royal have come together to help each other and rebuild their town. There are appearances by characters from previous stories, and also characters from upcoming ones. I like seeing them before they get their own books, as it is a way to get to know them before they become focal points. I loved the setting of the animal shelter and the way it shows what can happen with peoples' pets when a disaster happens.