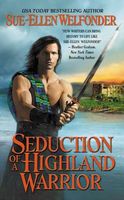 Series:
Highland Warriors
(Book 3)
At the King's request, chieftain Alasdair MacDonald has sworn to preserve the peace in the Glen of Many Legends. Though he's handsome and fearless, his warrior's heart belongs only to his beloved land-until the fair sister of his oldest enemy shatters his defenses, branding his skin with a single touch, and sealing his fate with one stolen kiss . . .
Lady Marjory Mackintosh will do anything to unite the warring clans, even seduce Alasdair MacDonald. She has loved the rugged Highlander since she first saw him and now, as temptation leads to surrender, Marjory dares to possess him, body and soul. But a dangerous new menace enters the Glen, and he will stop at nothing to strip Alasdair of his honor-and the only woman who can claim his heart.
Good conclusion to the series. Two years earlier a truce was forced on the three clan leaders who claim the Glen of Many Legends. The sisters of the three lairds made their own pact: to secure peace through the time honored method of marriage. Two thirds of their goal have been met, as Catriona MacDonald married James Cameron, and Isobel Cameron married Kendrew Mackintosh. Marjory Mackintosh is determined to succeed by capturing Alasdair MacDonald, the man she has loved since the first time she saw him. It isn't going to be easy, as Alasdair is fighting it and there are forces working to keep them apart.
Alasdair is attracted to Marjory, but knows that pursuing her is a really bad idea. He and her brother are enemies, in spite of the truce forced on them by the king. He even went so far as to leave the Glen for a year, in an attempt to forget her. But as soon as he sees her again, the flames burn even hotter than before. He wants her, but his need to protect his clan is just as strong. I got a bit frustrated with his apparent willingness to give up love for them.
I loved Marjory. She is strong willed and determined that she will get her man. Her brother Kendrew is determined to find her a husband and is looking at various Viking suitors. He wants to strengthen ties with the Norsemen and keep Marjory away from Alasdair. But Marjory is a step ahead of him at all times, and has succeeded in secretly scuttling all of his attempts.
Alasdair's warrior instincts have him convinced that trouble is coming to the Glen. He is suspicious that the trouble is being caused by Kendrew in an attempt to get Alasdair and his people in trouble with the king. His attempts to warn Kendrew of his suspicions don't go well and only adds to the enmity between the two men. Both of them have severe tunnel vision regarding the other, which adds to their inability to trust in the other's honor. It doesn't help that each time they meet Alasdair also manages to be found in questionable circumstances with Marjory.
I loved seeing Marjory's attempts to get where she wants to be with Alasdair. She nearly succeeds several times,but they seem to be stopped by either his honor kicking in or interruptions by other people. She really thinks she's making progress, but she isn't sure of Alasdair's feelings toward her. During one confrontation with her brother, he says some things that make her certain he doesn't care, not realizing that he's lying in order to protect her. She does eventually see the truth, but in the meantime is tempted to do some serious damage to both Kendrew and Alasdair.
I was ready to do some serious damage to Kendrew myself. He is obviously in love with Isobel and very happy in his marriage. But he spends most of the book trying to arrange a marriage for Marjory, in spite of her opposition. He is completely unwilling to give her the same chance for happiness that he has found for himself. If I were Isobel, I'd be supporting Marjory by making Kendrew's life miserable until he saw the light.
There was a good buildup of tension, both with the romance between Marjory and Alasdair, and the looming trouble with the Vikings. The dream that Marjory had gave the reason for the trouble, and each event through the story added to the question of how they were going to pull it off. By the time the confrontation came I was ready for anything. There were a couple of interesting twists to what happened and the ending was satisfying, though it wasn't anywhere as intense as I was expecting.