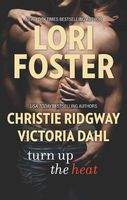 Love Won't Wait by Lori Foster
Brendan "Brick" Carlisle is used to women falling at his feet, so shy waitress Merrily Loveland is a breath of fresh air--and an irresistible challenge. But before he can make his move, Merrily comes to him with an offer he can't refuse. If only their "no-strings" pact didn't leave him wanting so much more....
Good story. Brick has had the hots for Merrily since he first saw her. Just as he's trying to figure out the next step, Merrily asks for his help, which gives him the chance to get closer to her. He doesn't want to rush things, so plans to use the time building a doggie door for her to enable them to get to know each other better. Once she has him at her house, she has an additional proposition for him. She wants a no-strings chance for him to teach her what desire is all about.
He is stunned, but willing. I liked seeing him ease into things, giving her the chance to get to know him first. I liked the way that, even though he starts out as a no commitment kind of guy, as Brick gets to know Merrily better he realizes she's everything he could want. She's sweet, loves animals, and is straightforward about what she wants. All he needs to do is convince her.
Merrily had been engaged to a guy who seemed to especially like the idea that she was a virgin. She wasn't ready to go further with him, especially while she was caring for her sick mother. He dumped her because of it, and after her mother passed away she moved away, determined to do things her way. After a month of waiting on Brick and hearing others talk about him, she decided to ask his help with her "problem". She's surprised by his desire to take things slow, but his way of doing things has her falling for him quickly, even though he had said he doesn't do long term relationships. I loved the confrontation with her ex and the push it gave to them both.
Besides the heat between Brick and Merrily, there was a lot that was fun in the story. I really liked Merrily's critters and how they and Brick took to each other right away. There was also a great friendship between Brick and Jesse. It was fun to see the way that Jesse teased Brick about his preoccupation with Merrily, but he was also supportive of Brick when he needed it. I also liked the growing relationship between Jesse and Tonya and would like to see a story starring them.
Beach House Beginnings by Christie Ridgway
Series:
Crescent Cove CA
(Book .5)
She might have avoided Crescent Cove, California, for years, but no-nonsense Meg Alexander is confident she can handle a brief trip home. What she doesn't count on is the spark of desire she feels for Caleb McCall. Can a weekend in paradise convince her to give love a second chance?
Meg has gone back to Crescent Cove after ten years away, in order to help out while her sister is away. Ten years earlier she had lost Peter, the young man she loved when he drowned while kayaking. Since then she has relegated all thoughts of love to the realm of fairy tales, refusing to believe that it really exists.
On her first day there, Meg meets Caleb, who is Peter's cousin. Caleb has come back to Crescent Cove in an effort to make some changes to his life. He is recovering from major surgery, during which he experienced what he calls a vision. He saw Meg at the Cove with him, and sees it as guidance on what he's supposed to do. There are sparks between them that Caleb wants to pursue and Meg wants to ignore.
Caleb is gently persuasive and soon Meg agrees to spend some time with him. The chemistry between them is hot, and she decides that giving in for one night is just what she needs. She doesn't intend to let it go further than that, but Caleb is persistent.
Meg's fear of loss has caused her to close off her heart from ever experiencing love again. At first, her memories of Peter at the Cove just bring pain, but with a neat little twist from the dog, she is reminded of all the good things. Caleb's new zest for life helps bring happiness back into her life. Her fears nearly keep her from embracing the future she could have, and it isn't until she faces those fears that she can accept the love that Caleb has to offer her.
Strong Enough to Love by Victoria Dahl
Series:
Jackson Hole
(Dahl) (Book 1.5)
Photographer Eve Hill had always told herself that sexy Brian Stewart was off-limits. But now he's back in Jackson Hole, Wyoming, and Eve can't resist their long-denied attraction. When the reality turns out to be hotter than the fantasy, Eve might end up getting more than she bargained for....
Two years ago Eve had had feelings for her boss, feelings that she couldn't do anything about. Brian was married, although separated from his wife (for the third time). Their friendship had started to change. But when Brian's wife wanted to try again, he left Eve behind, feeling honor bound to make the attempt. Eve was devastated and has still not really recovered.
Now Brian has returned, finally divorced, and wants a chance with Eve. He knows that he hurt her, but hopes that they can move past it. Eve is afraid to let herself believe that he won't hurt her again. The way he makes her feel is too intense and she fears that she wouldn't be able to recover a second time. She thinks that if she gives him one night, she can get him out of her system and move on. I really understood her reluctance to get involved with Brian again.
I had mixed feelings about Brian. I respected the fact that he didn't give in to his feelings while he was still married. But I hated the way that he went back to his wife even though he knew he cared for Eve, After three separations it should have been obvious that the marriage was over. Telling Eve that he cared for her but was still leaving did a number of her self confidence, as she felt that she wasn't good enough for him to want to stay. I would have liked to see him have to work a little harder to get her back.