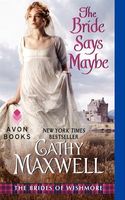 Series:
Brides of Wishmore
(Book 2)
What happens when a bride says maybe?
She'd once been the toast of London, but now scandal has brought her down. Still, pretty, petted Lady Tara Davidson can't believe her new fate. She had wanted to marry for love . . . but her profligate father has promised her hand to none other than Breccan Campbell, the "Beast of Aberfeldy" and laird of the valley's most despised clan Well, Tara may have to marry him, but Breccan can't make her love him--can he?
What happens when the groom insists?
Breccan Campbell is nobody's fool. He knows that Tara is trouble. Yet he's determined to reform the Campbell name even if it means forging an alliance with the arrogant beauty. There's no doubt that Tara is a challenge, and Breccan loves nothing more. For he's vowed to thoroughly seduce Tara--and make her his in more than name alone.
We first met Tara in
The Bride Says No
, where she was engaged to another man. She didn't want him, believing herself in love with the horse trainer on her father's estate. She ran away from her engagement, at which time her father forced her older sister to take her place. Tara then tried to break up the engagement between her old love and his fiancee, and when that didn't work, tried to get her old fiance back. She ended up with nobody, and facing the scandal of her actions. She still wants to marry for love, but that's looking unlikely while she's stuck in Scotland instead of being in London.
Tara has begun to realize that she brought her troubles on herself. She also knows that she still wants to find someone she can love. She is also determined to find someone that will love her for herself, not just want her for her looks. She is smarter than people give her credit for and she wants to do something that matters, not just sit around and look pretty. Then her father promises her to a local laird, in exchange for the man's paying off his debts. Tara tries running again, but is caught by Breccan himself.
Breccan is head of a local clan that doesn't have the best of reputations. He's also a very large man, which has earned him the title of "Beast of Abefeldy". He wants to marry and have children to pass his lands to, but finding a wife has been difficult. When he sees Tara he is immediately drawn to her beauty and thinks she'll make the perfect mother for his kids. He doesn't really think of her as a person outside of that.
Their initial meeting is pretty funny. He catches her running away from him and is furious. He also still wants her. Tara doesn't want to marry him, but also doesn't want her father in debtor's prison. She puts her very agile mind to work, persuading Breccan to enter into a bargain with her in regards to their marriage. What they agree to is pretty interesting, especially as Tara is at a bit of a disadvantage regarding some of the information she is working with.
Once they get back to his home, both have to face themselves and their own issues. Breccan has some self worth issues thanks to the way people treat him. He tends to be gruff and broody, which doesn't help Tara with her own fears. The information she has received about the wedding night has terrified her, which affects the way she acts around Breccan. At this point we actually do see another side to Breccan, and I loved the sensitivity he was able to show her.
They start a process of getting to know each other and discover that they may actually like each other. I loved seeing Tara start to think about more than herself and begin to fit in around her new home. She also starts to see Breccan differently and her feelings about him begin to change. Breccan also begins to look at more than just Tara's beauty, and sees that she's even more than he could have dreamed of. He backslides, though, when his unpleasant cousin raises doubts in Breccan's mind about Tara's past, preying on Breccan's fears. I loved seeing Tara face him and start them talking again, and how they fixed their marriage. I liked seeing the cousin get a little of what he deserved at the end.