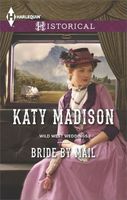 Series:
Wild West Weddings
(Book 1)
27-year-old fur trader seeks wife and helpmate.
Expecting a plain, dependable woman to reply to his advert, what Jack Trudeau actually gets is pampered fashion plate Olivia Hansson. There's no denying she's pretty, but patently ill-equipped for life in his simple log cabin -- with its one bed -- in the wild Rocky Mountains.
Olivia must make a success of her new life. But how to convince her skeptical husband that she is capable? She doesn't cook and only knows how to grow flowers, not practical vegetables! Undaunted, Olivia sets out to win his grudging admiration -- and his closely protected heart.
After several months of exchanging letters, Olivia has finally arrived in Denver, ready to marry Jack. The letters he wrote describing the beauty of where he lives touched her heart and made her long for something she hadn't had in years - a place to belong. Things don't go quite as she hoped, as Jack's first reaction to her seems to be dismay.
Jack had certainly not expected the young woman in the fashionable clothing, who can't even look him in the eye. As they travel toward his home he discovers that she can't cook, knows nothing of growing food, and seems to be afraid to even touch him. He's bitterly disappointed and has no trouble letting it show.
Olivia sees his disappointment, and feels rejected already. She has grown up feeling that she doesn't meet anyone's expectations. Her parents died in a train wreck when she was a child and she was raised by an older woman who rarely had anything good to say to her. As an adult she worked in a cotton mill where she was also looked down on. Ever since writing to Jack she has dreamed of finally having someone who accepts her for who she is. If she wants to make her marriage work she has to learn a new way of life.
I felt bad for Olivia because she was way out of her depth. She had never experienced anything like the wilderness she was now going to be living in. She waffles back and forth between wanting to stay and make it work with Jack and wanting to leave because she can see he doesn't want her. She's also extremely innocent, and doesn't understand the feelings that Jack rouses in her. They scare her a bit and cause her to shrink away from him. It takes a near tragedy for her to see that she is stronger than she thinks she is. I liked seeing her start to display the strength she'll need to have the future she wants.
I was a bit frustrated with Jack. I got the impression that he hadn't been all that specific in his letters to Olivia about what he actually expected of her. I felt that he could have at least offered to teach her what she needed to know. Instead, all he can see is that she doesn't fit the preconceived picture he had in his mind of what the perfect wife would be. Jack spends a lot of time comparing her to his mother, who had left him and his father because she couldn't handle the life there, and to his late Indian wife, who had known exactly what needed to be done and how to do it. Added to that, he's really attracted to her, but afraid to get close because it will hurt when she leaves. So he blows hot and cold with her, as the attraction makes him want her to stay, but his fears cause him to push her away.
Things would have gone much more smoothly with them if they would have just talked to each other about what they were feeling. They were so busy protecting themselves that they couldn't see what needed to be done. The only times they really communicated in any way was when the attraction would take over. I did like Jack's patience and gentleness with Olivia and her innocence.
I liked the section where they were caring for Jack's former brother-in-law. It was a terrific demonstration of the things that could happen and how they would need to be dealt with. I loved seeing the progression that Olivia made from her fears at the beginning of it, to her courage and determination by the time Jack came back. I also liked seeing that Jack finally realized what an idiot he'd been. The plans they made for their future together were an excellent compromise to both their needs. The only thing that might have made it better would be an epilogue from a year or so later.