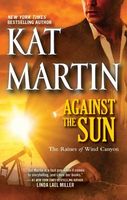 Series:
Raines of Wind Canyon
(Book 6)
It's not in bodyguard Jake Cantrell's job description to share his suspicions with his assignments.
Beautiful executive Sage Dumont may be in charge, but Jake's not on her payroll. As a former special forces Marine, Jake trusts his gut, and it's telling him there's something off about a shipment arriving at Marine Drilling International. His instinct is aroused…in more ways than one.
A savvy businesswoman, Sage knows better than to take some hired gun's "hunch" as gospel. And yet she is learning not to underestimate the man her grandfather hired to protect her. Determined to prove Jake wrong, Sage does some digging of her own and turns up deadly details she was never meant to see.
Drawn into a terrifying web of lies and deceit -- and into feelings they can't afford to explore -- what Jake and Sage uncover may be frighteningly worse than they ever imagined.
Good book. Jake has been hired by Sage's grandfather to be her bodyguard while she is participating in negotiations with a Saudi prince. Sage isn't at all happy about it and makes her feelings clear to Jake. He isn't too thrilled with her either, but an assignment is an assignment.
Jake and Sage get off to a rough start. Sage doesn't think she needs protection or help from Jake. He didn't make the best first impression when he mistook her for the receptionist and she isn't going to forget it. Sage has worked her way up in the family company and could be in line to become CEO if she pulls off this deal with the Saudi prince. She's strong and determined and knows exactly what she wants. She sees Jake as the caveman type, there to intimidate, but not much use otherwise. He's nothing like the sophisticated men like her fiance. She quickly learns that there's much more to Jake than meets the eye. Jake isn't too thrilled to be protecting a businesswoman who probably got her job because of who she is. He sees her as a spoiled society girl playing at real work. That doesn't last long as he sees just how good she really is at her job.
I liked Jake a lot. He's a little rough around the edges, but he is highly intelligent and honorable. He's attracted to Sage, but since she's engaged he's determined to keep his hands to himself. I really had fun seeing their power struggles at the beginning. It didn't take as long as it could have before they developed a good working relationship. I liked seeing the way that his view of life changed over the book. He went from a lone wolf type to one who was willing to form relationships. I really liked his Big Brother relationship with Felix. It was another layer of his personality that showed what kind of man he was.
I had a harder time liking Sage. She's earned her place in this business, that's no problem. But I didn't like the way that she had basically selected her fiance because of his pedigree and what she saw as suitable qualities. She's attracted to Jake, but sees too many inequalities between them, which made her seem rather snobby. I liked the way that exposure to Jake had her rethinking her engagement. There were a couple encounters between Jake and Phillip that made me laugh. Once Phillip is out of the picture things get pretty hot between Jake and Sage. They spend a lot of time telling themselves why a relationship won't work long term, but they can have fun short term. I loved seeing Jake start to plan a future and wanted to slap Sage silly for what she said to Jake near the end. I'm glad she came to her senses and saw that they belonged together. I felt like Jake could have made her work a little harder to make up, but it was good.
The suspense was quite good. I enjoyed learning the bits of protocol that Jake taught to Sage. The theme of the story was realistic and easy to believe in. The leaking of the story that led to the protests obviously had a purpose, and that became more clear as the book went on. Sage was a bit naive about the danger of the protests which led her to make a stupid move, but she learned her lesson quickly and Jake got high points for the way he handled it. Things got a bit more intense with the conversation Jake overheard between the sheikh's son and his friend. Add in an explosion, drug trafficking and some possible terrorist activity and the last quarter of the book had me staying awake until I finished it.
I loved seeing the backup and support Jake got from his friends and coworkers. It wasn't just on the business side either. I loved seeing them come together for the takedown at the end. There were some great sparks between his coworker Alex and Sage's friend Rina, which means their story is bound to be good.