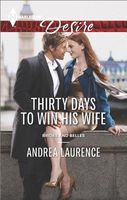 Series:
Brides and Belles
(Book 2)
Even with a baby on the way, Amelia's holding out for the perfect husband. Tyler has thirty days to prove he's the one.
Best friends Tyler Dixon and Amelia Kennedy eloped to Vegas on a whim. But before they can deal with their quickie divorce, she confesses: she's pregnant. Now there's no way Tyler will agree to go their separate ways. He wants them to stay married, raise their child together, share a house -- and a bed.
Yet Amelia has always dreamed of a perfect marriage…and she doesn't think this self-made millionaire is lifetime material despite their friendship. She's given him just one month to prove her wrong…
Good friends to lovers story. Amelia and Tyler have been best friends since high school. In a lighthearted pact they promised that if neither was married by their tenth reunion they would marry each other. Fast forward ten years to that reunion and, fueled by a little too much tequila they follow through on that promise. They also had a passionate wedding night, but in the light of day decided that they were better off as friends.
Tyler has a job that keeps him traveling, so it's several weeks before he gets to Nashville to talk to Amelia about their divorce. Amelia is ready for him, but there's a little kink in the plan - she's pregnant. She's still fine with the divorce, but Tyler isn't. He wants to do the whole family thing with her and their baby.
This is where things get complicated. Tyler doesn't want to be a part time father. He feels that he and Amelia can stay married and raise their child together. It doesn't matter that they aren't "in love", they are friends, which is better. Tyler was in love once before and it ended badly, so he isn't going to risk his heart again. Amelia doesn't agree. She has been planning her wedding since she was five and has been waiting for the perfect groom. She and Tyler may be friends but she sure doesn't see him stepping into that role. She wants a marriage like the one her grandparents have, based on true love. So she challenges Tyler to make her fall in love with him in just one month.
I liked Tyler. He really wanted them to be a family and was willing to do whatever he could to make it happen. Having been friends with Amelia for so long, he knows her really well, so he knows what buttons to push. He listens to her requirements and actually tries to fulfill them. One bad thing he does is tries to hold back his feelings to protect his heart. He doesn't see that the way Amelia has always been so important to him is an indication of his true feelings. I loved seeing him trying to do things that would make her happy. It was especially nice to see him help her with the food prep for one of the weddings.
I got a bit frustrated with Amelia. She had this unrealistic view of the perfect marriage and the perfect groom. I wanted to shake her and tell her to grow up. She also had a real aversion to accepting overt signs of caring from any man. Her father is the overprotective type that didn't encourage any kind of independence, and that makes it hard for her to accept that kind of help from any man. She sees it as taking over rather than caring. It takes awhile for her to see the difference in the way that Tyler treats her. When she lays down the rules for him, she forgets that he would see it as a challenge. She isn't sure what to make of all the things he does.
As the days of the challenge go by, I loved seeing them get closer. Their friendship was still there, but the attraction added another level to it. But both of them were so busy protecting themselves that they couldn't see the love that was already there. The scenes at the house, then at the hospital were heartbreaking and I cried for both of them. I loved the talk that Amelia had with her grandmother and Tyler's sudden appearance. The ending was sweet and I loved the epilogue. I can't wait for the rest of the series.