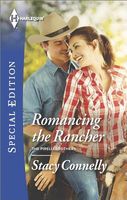 Series:
Pirelli Brothers
(Book 4)
To Kiss a Cowboy
Former rodeo star Jarrett Deeks knows about saving horses, but city women like Theresa Pirelli have always been out of his league. Yet her kiss rocks him harder than any bull he's ever ridden. In her, he sees himself: a little bruised, a lot lonely. She's his for only a few weeks, except unlike his horses, he can't let her go once she's healed. But how can he convince her to stay?
Theresa is used to taking care of patients… not being one! When an accident jeopardizes her career, she needs a break from worrying about her uncertain future and interfering family. A few weeks at Jarrett's rustic California horse ranch seem like just the ticket to get back on her feet. Until she's completely swept off them by one sexy cowboy.
Sweet but also very emotional story. Theresa has come to Jarrett's ranch after suffering from a life changing injury back home in St. Louis. Thanks to a car accident, she no longer has the ability to do her job as an ER nurse, and has no idea what she can do now. Her family is hovering, pushing her to accept a desk job, something she would hate. And her fiance has broken off their engagement, blaming her for the accident that also injured his daughter, and saying things that are extremely cruel. She hopes that the peace and quiet of the ranch will help her see more clearly. She doesn't expect to be helped by a sexy cowboy who seems to know just what she's going through.
Jarrett had gone through his own career ending injury the year before, thanks to a bullriding accident. He had even considered continuing riding, even with the risk of permanent injury, before seeing that he could have a new life running a ranch for rescue horses. He doesn't understand why a city woman like Theresa would want to stay in a bare bones cabin until he meets her. He sees the same pain in her eyes that he's seen in his and in those of the horses he rescues.
Both Jarrett and Theresa have problems trusting. Theresa doesn't trust men or her instincts about them, thanks to her ex-fiance. She's attracted to Jarrett and knows he's attracted to her, but she doesn't want to risk her heart again. Jarrett simply pushes people away, not trusting that they really care. His parents' divorced when he was a kid and there were things done on both sides that made him see other people as manipulative.
I liked seeing Jarrett help Theresa by putting her to work with the horses. He saw a lot of similarities between them. He also tried to help her see that there are always options. Though it was hard for him to share his emotions, he found himself telling her things he doesn't usually tell anyone else. Theresa felt closer to Jarrett than she had felt to anyone since the accident. She had trouble seeing past the downside of her injuries until she learned what had happened to Jarrett and saw what he had done since then. As the two of them got closer, they dreamed of what it would be like to have a future together, but neither one would risk rejection by confessing their feelings. Jarrett especially needed to learn to let people get close to him. I loved the ending and how the two of them finally came together.
Jarrett also has trouble accepting help from anyone, especially his family. He always feels that help comes with strings attached and he doesn't want that, he'd rather do things on his own. His half sister arrives for a visit, and he tries to keep his distance, but Theresa gets involved. Because she has a large and loving family, she wants Jarrett to mend fences with his own. I enjoyed seeing her bond with his sister and how the two of them worked to get Jarrett to reconcile with his mother.