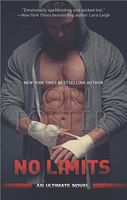 Series:
Ultimate
(Book 1)
Cannon Colter is quintessential hero material: chiseled jawline, shredded body -- the works. He's also the guy who rescued Yvette Sweeny from kidnappers, only to put an end to her romantic dreams. These days, she's older, smarter, determined to face whatever life throws her way. Even the prospect of sharing a house and business with Cannon.
Cannon knew Yvette wanted him three years ago. But she was young -- and some things are worth waiting for. Thrown together by her grandfather's legacy, he realizes how deep Yvette's scars really go, and how much danger lurks in their quiet town. As pent-up desire explodes between them, protecting her becomes the only fight that matters. And he'll break all the rules to do it….
Fantastic beginning to the new series. Cannon and Yvette were both characters in
Dash of Peril,
where Cannon was involved in rescuing her from some pretty nasty people. Yvette had had quite a crush on Cannon, but Cannon felt she was too young. She moved to California to try to start over and move on from her heartache. Her grandfather's death brings her back to Ohio, where she faces her past.
I loved Cannon. Even as a teenager he had a strong protective streak. He spent a lot of time looking out for the people in his neighborhood and developing his fighting skills. At the end of the last book he was offered a chance to train for an MMA career and has done quite well in the three years since. He's never forgotten Yvette, and when her grandfather's death brings them both back to Ohio, he realizes that his waiting time is done. It doesn't take him long to see that she isn't the sweet young things with a crush any longer. The attraction is still there, but she also tries to keep a distance between them. Cannon knows what he wants and is willing to take the time to show her that she wants it too. The patience he had as they grew closer was incredible, and it was obvious how difficult it was for him. I loved the sweet way he treated her, while at the same time ramping up the physical attraction. I loved watching his protectiveness as an ex follows her to town and makes trouble for her, and his frustration as she resists accepting his help dealing with it. I really liked the way that he could see that she's a lot stronger than she thinks she is and tries to show her that he doesn't see her as a victim.
Yvette had left Ohio for California three years ago to get away from the memories of the kidnapping. She had hated the publicity, and hated feeling like a victim. She's made a good life for herself and developed the independence she thought she'd been lacking. When she came back to Ohio to settle her grandfather's estate she was determined to show the strong side of herself. She hasn't been able to forget the needy, helpless victim she had been, or the feelings being rescued by Cannon had stirred up. She determined to make sure that he knows he doesn't have to take care of her any longer. But the attraction she felt for him then is nothing to the heat between them now. Thanks to the events of three years ago, Yvette feels unable to take the attraction all the way and tries to push Cannon away. He won't give up, and she discovers that there's a lot more to him than she ever suspected. When she starts having problems with a stalkerish ex, she tries to deal with it on her own. She is still fighting her self image as a victim and pushing away anyone who wants to help her, believing that they think she can't handle it. It takes awhile for her to see that Cannon and his friends don't think of her that way, it's just what they do and who they are. I really loved seeing her get to know all the guys and how comfortable she became with them. There were some pretty funny scenes with them, especially the one with Cannon, Yvette and Armie in the kitchen. I loved seeing her finally realize that accepting help doesn't make her weak. She really stunned Cannon at the end with the way she made her wishes known.
The suspense in this book wasn't as intense as in the previous series, but there was enough to give the book a bit of edge. The ex was definitely creepy and I loved seeing him get what was coming to him. There were some other things happening to Yvette that didn't seem consistent with what he was doing and it turned out there was another player in the trouble. I didn't really suspect who until near the end, but the reason was a complete surprise.
I really enjoyed getting to meet the secondary characters. Cannon's fight friends are pretty obviously going to be the subjects of the rest of the series and I am really looking forward to their stories. Armie is especially intriguing, and the chemistry between him and Cannon's sister is sure to make their story hot. It was great seeing the contrasts between these guys in fighter mode and then the gentle, fun guys when they are "off duty". I also loved seeing the way they give back to their community with programs for at risk kids and their neighborhood watch type activities. It was also fun to see characters from previous books, especially Dash and Margo. The scene with them at home, as Margo helped Yvette, and their little girl climbing all over Cannon was pretty sweet.