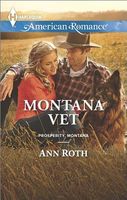 Series:
Prosperity Montana
(Book 3)
WHAT SHE NEEDS
Emily Miles already has plenty on her plate. She has to care for the dogs she rescues, find staff and volunteers for her shelter, not to mention raise money to keep The Wagging Tail going. So when the new, desperately needed part-time vet starts stirring up her insides, Emily tells herself it's just gratitude she's feeling. She can't jeopardize the shelter by getting involved with Seth Pettit.
Seth has his own plateful: a teenage ward who hates him, an estranged family he's trying to mend fences with and a living to make in small-town Montana. Tough but delicate Emily needs a full-time partner, and that just can't be him. Not as a vet or a man. So why does he want to be both?
Good book. Emily desperately needs a vet for her animal shelter and Seth Pettit will do nicely. What she doesn't need is an inconvenient attraction to him. The last thing she wants is to risk losing him as a vet, thereby putting her animals and the shelter in danger. Seth doesn't have time for a relationship either. He's busy trying to get his practice set up and taking care of his ward. But staying away from her is getting harder every day.
I really liked both Emily and Seth. Emily has a passion for rescuing dogs that takes up most of her life. Someday she'd like to have a family of her own, but she's still recovering from her last relationship. She tries to convince herself that what she's feeling for Seth is simple attraction and appreciation for what he's doing to help her. But the more she sees of him and what he's trying to accomplish with his family and with Taylor, the deeper her feelings grow. She's just not sure if she can trust enough to open herself up to the possibilities. I really liked the way that she understood Taylor and tried to help her adjust to Prosperity. I also liked seeing her try to help Seth and Taylor come together as a family.
Seth has returned to Prosperity after seventeen years away. He and his siblings had lost their parents early, with Seth and his brother being sent to stay with their uncle. His uncle was abusive and Seth learned to wall off his feelings in order to survive. After his uncle's death, Seth's older brother tried to take over as the one in charge, but Seth rebelled and left home. It was only after a friend urged him to make peace with his family that Seth decided to return. He had also become the guardian of an old girlfriend's teenage daughter, and needed a stable life for her. He traded his services as a vet with Emily in exchange for her help with a website and a volunteer opportunity for Taylor. He's incredibly busy with his life and feels that he has no time for a relationship, but he can't seem to stay away from Emily. He's impressed with everything she does, and her care for the dogs seems to extend to him and to Taylor. I really felt for him with his struggle to connect with Taylor, and his attempts to make peace with his brother. It was a slow process for him to learn to express his feelings, but he survived the struggle. I loved the ending and seeing how both Seth and Emily were able to love again.
I liked Taylor also. She was pretty surly at the beginning, but as the story went on we learn why she has the attitude she has. I really ached for her and her feelings of guilt and abandonment. It was very nice to see how the love of the dogs started to change her outlook. I also enjoyed seeing that she also had typical teenage behavior. It was great to see how Seth's and Emily's influence helped her overcome her problems.