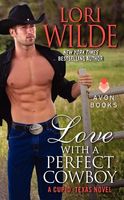 Series:
Cupid Texas
(Book 4)
Melody Spencer had long-ago wiped the dust of Cupid, Texas, off her cute shoes . . . and done her best to forget the chiseled jaw and strong arms of cowboy Luke Spencer. Their families might be part of a long-time feud, but he was her very first love, even if it turned out they never wanted the same things.
But now Luke's come striding back into her life, tempting her with the memories of long, lazy evenings and hot, passionate kisses. And he has an ulterior motive -- as Mayor of Cupid, he knows Melody's business savvy can help save their beloved hometown. His smooth talking might get her to Texas, but that doesn't mean he'll get her in his bed. Still, people do say love can be more perfect the second time around . . .
Excellent conclusion to the Cupid, Texas series. In this one Cupid really has his work cut out for him. Fifteen years earlier Luke and Melody had snuck around behind their families' backs and enjoyed being young and in love. But tragedy followed when they were discovered, and the feud got even worse. Melody had gotten to the point where she couldn't wait to get away from Cupid and all the memories. Meanwhile, Luke was happiest where his roots went deep.
Now the town of Cupid is in trouble, thanks to the drought drying up the tourist trade. Luke is desperate for help to save the town and thinks that big city advertising exec Melody is just the person to help. All he needs to do is convince her to come home. So he heads off to New York to do his best.
Melody has been living the good life in the city. She has a job she likes and no one getting into her business. She has the feeling she has nowhere to go but up, as she's been putting in long hours hoping for a promotion. She hasn't thought (much) about Luke in the years she's been gone, until she spots him on her way into work. Avoiding him isn't easy, but she manages, and gets to work in time to be called to her boss's office. Thinking she's about to get the good news she's been hoping for, she's stunned to find out she's being fired instead - for being too honest, of all things. After spending some quiet time trying to think of her options, she heads for the apartment she shares with her boyfriend, only to discover that he's evicted her and left the country. Into this disaster of a day comes Luke, picking her up and taking her back to his hotel to recover.
That night, Luke and Melody discover that they are still wildly attracted to each other. Taking advantage of being away from Texas, they indulge in a night together knowing that nothing more can come of it. With nothing keeping her in New York, Melody goes to Cupid to see what she can do to help.
Some things never change and the feud is alive and well. Melody and Luke would like to spend time together, but their families would have a conniption. Both of them are disgusted with the whole thing, but each has a different idea on how to deal with it. Having stayed in Cupid, Luke has gotten very good at keeping a lid on everything. He believes that stirring things up will only create more trouble. Since he's sure that Melody would never stay in Texas, he can't see creating havoc for something that won't last. Melody, on the other hand, feels that nothing will change until the whole feud is brought out into the light where everyone can see just how stupid it is. She has some ideas on how to do it, and help the town at the same time, but Luke forbids it. When she takes matters into her own hands, it's sometimes hard to tell if it's working or not.
Luke and Melody manage to find ways to spend time together, and even though they claim it's just for sex, it's obvious that they are falling for each other all over again. But until they can get their families to give up on the grudges of the past, things look pretty hopeless for them. It takes Melody doing what she feels is the right thing, even against Luke's wishes, to get the ball rolling, and a near tragedy for the families to finally see the light.
There were quite a few fun moments, including the bachelor auction, where Luke gets purchased by the last person he'd ever want to get stuck with. There were also the sad times, such as Melody's first sight of Cupid under its drought conditions. And then there was the truly heartbreaking, when Melody put her love out there for everyone to see and Luke wouldn't even give her a chance. Fortunately, Cupid's streak remains unbroken and they get their happy ending after all.