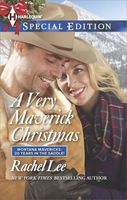 Series:
Montana Mavericks: 20 Years in the Saddle
(Book 6)
A CHRISTMAS TO REMEMBER
RUST CREEK RAMBLINGS
Holiday greetings, dear readers! As our cozy little town battens down the hatches for the biggest blizzard Montana has ever seen, everyone is talking about mysterious newcomer Julie Smith. No one knows much about the quiet blonde, least of all herself! A tragic accident left her with no memories of her past -- and no clues to her real identity. And with the Yuletide season bearing down, you've gotta wonder where the poor gal will turn for shelter.
Never let it be said that a Rust Creek rancher leaves a damsel in distress! For the way sexy cowboy Braden Traub has been looking into Julie's blue eyes, could our last living Traub bachelor provide the key to Julie's future -- and her happiness? Snuggle up by the fire and join us as we discover who Julie really is and share a Christmas Rust Creek Falls will never forget!
Very good book. We've seen Julie several times in previous books, always quiet and not saying much about herself. Now we discover that it's because there's not much to say. Four years earlier she had woken up in a hospital with no memories of who she was or where she had come from. She had no identification and the police never found out what happened to her. She was given a new identity and she tried to make a new life for herself.
Over the months since her recovery, she has felt a constant pull toward the state of Montana. After reading of the troubles after the flood in Rust Creek Falls she moved there to help in the recovery. She feels more at home there than anywhere else she's been, but it still doesn't feel quite right. She's haunted by her lack of memory and worried what people would say, so she doesn't tell anyone. It makes her nervous when people ask questions that she can't answer and she's learned to be somewhat evasive. It makes it impossible to have any kind of relationship, especially since she worries that she might not like the person she used to be.
Braden is the last of the unmarried Traub men. He seems like something of a recluse as he is usually very busy running the family ranch. On a rare trip into town he has a chance to meet Julie and is immediately intrigued by her. Besides the beauty that instantly attracts him, he senses a vulnerability to her. There is also that air of mystery, which gets his interest in puzzles focused on her. After a couple of times having coffee together, his interest is well and truly hooked. They are slowly getting to know each other when a freak blizzard traps them together.
It's during this time that Julie, who has remembered that her name is actually Jennifer, takes courage in hand and tells Braden about her amnesia. She worries that it will send him running, just as she's becoming more willing to take a risk with her emotions. I loved Braden's reaction. He was surprised of course, but what really impressed me was his sensitivity. He admitted that he couldn't imagine what it was like, but also made it clear that it didn't matter to the way he was beginning to feel about her. I really liked the way that he listened to her fears and tried to help her through them. He takes a big risk when he makes a phone call that could either help her or ruin what they were beginning to feel for each other.
Julie's fears were completely logical and they were creating some real dilemmas for her. She was getting comfortable in her new life so she wasn't sure if she wanted to keep searching for her past. On the other hand, the lack of a past has left a huge hole in her heart. Getting closer to Braden has made her want to know more, but also afraid of what she might find. The information he discovers makes her wonder if all her fears were well founded and she has to decide what to do with it. The ending wasn't quite what I expected, but it was very good anyway. Braden was especially sweet and awkward as he tells her of his feelings.
I liked the appearances of Braden's family and Julie's friends. It was an easy way to get a feel for her relationships with others and the effect her amnesia had on the way she went about it. I really enjoyed the teasing that Braden got from his brothers, especially Dallas. I wish there had been more about the old guy, Homer. I'd had the feeling that he was going to play a larger part in the story than he did. Hopefully there will be more of him in a future book, because I am interested in what his story is.