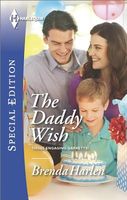 Series:
Those Engaging Garretts
(Book 6)
This could be the merger of a lifetime
The holidays are over, but Allison Caldwell can't stop thinking about the kiss she shared with Nathan Garrett under the mistletoe. The dazzlingly attractive playboy she's secretly crushed on for years isn't just off-limits because he's out of her league; the heir apparent to the Garrett furniture empire is about to be crowned CFO -- and the single mother's new boss!
One night changed everything for Nathan. And now his executive assistant is strictly hands-off despite their intense physical attraction. Besides, Allison has a son, and Nathan's no family man. Then why is Nathan's head suddenly filled with fantasies of being a father? Perhaps this once-happy bachelor won't be single for long…
Very good book. Allison and Nathan shared an intense kiss at the holiday party, but Allison is determined that it won't go any further. First and foremost, he's about to become her boss and she won't risk her job for a fling with her boss. Second, Nathan is well known as a bachelor who avoids commitment. She's a single mom who isn't looking for a fling.
Neither one of them has been able to forget that kiss, and when a snowstorm strands them overnight together, they decide that one night will be enough to answer the need. They don't expect the experience to be even more unforgettable than their kiss. But Allison resists getting involved with him. She has seen that Nathan doesn't do long term relationships and she doesn't want to risk her heart again on someone that won't stay around. Nathan doesn't know why he can't stay away from Allison. She's nothing like the women he usually dates, but he can't get her off his mind. Finding out that she's a mom should have ended it right there, as he strictly avoids getting involved with women who have children.
I really liked the way the relationship between Nathan and Allison developed. Nathan respected Allison's desire to keep it out of the workplace, so he confined his advances to after hours visits. He was persistent in his pursuit as he tried to overcome her reservations. I loved watching him get to know Allison's son Nathan and discover that he had a desire for a family after all. I loved the trip to the races and his realization of the depth of his feelings for Allison. I enjoyed the way he tried to show her by taking her to visit his parents. Allison spent a lot of time trying to resist her feelings for Nathan. His reputation fed into her fears about his feelings not lasting. She had already been through one marriage that ended because her husband's feelings for her changed, she didn't want to do it again. She also worried about her son getting hurt in the process. Nathan's treatment of her son made her want to believe that it was real, but she was wary.
It took a crisis for Allison to accept that his feelings were real. I loved Nathan's ability to stay calm, and how he stuck around even with Allison's attitude. The scene in the hospital room was sweet and young Dylan was adorable.