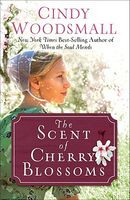 Series:
Apple Ridge
(Book 3)
Annie Martin loves the Plain ways of her Old Order Mennonite people, like those revered by her beloved grandfather. Retreating from a contentious relationship with her mother, Annie goes to live with her Daadi Moses in Apple Ridge.
But as spring moves into Pennsylvania and Annie spends time amongst the cherry trees with the handsome Aden Zook, she wishes she could forget how deeply the lines between the Old Order Amish and Old Order Mennonite are drawn.
Can Annie and Aden find a place for their love to bloom in the midst of the brewing storm?
Good story of family, friendship, faith and love. Annie is the oldest of the kids in her family. She has a rocky relationship with her mother, thanks to their different outlooks on behavior. After one argument too many, Annie's mother sends her to stay with her grandfather in Pennsylvania. Annie loves her grandfather Moses and they have always gotten along well. While staying with Moses, Annie goes to help the Amish Zook family in their diner.
Aden is the cook at the diner while his handicapped brother works as server and his parents help out when they can. Aden is a handsome young man, and a very shy one. He stutters which makes it difficult for him to talk to other people, especially girls. His twin brother Roman is more outgoing, but is confined to a wheelchair, thanks to an accident several years earlier. Aden and Roman help each other, with Aden providing the muscle needed to help care for Roman, and Roman doing the talking for both of them.
With Annie spending more time at the diner, she and Aden get to know each other much better. Annie sees past the stutter to the sensitive and artistic young man that he is. Aden admires Annie's cheerfulness and the way she can talk to anyone she meets. Their friendship begins to deepen into something much stronger, but they can't see any future in it. Their individual faiths of Amish and Mennonite forbid a relationship between them and both are deeply committed to their beliefs. Even their families have pointed out the impossibility and continuing to spend time together threatens more than just their faith.
I felt really bad for Aden and Annie. In spite of the similarities between their religions, the differences are enough to keep them apart. It doesn't help that Annie's grandfather is especially against it, and as a partner in the Zook's diner can ruin the business if he pulls out. Aden's family also makes it clear that they don't approve. But neither Aden nor Annie want to give up what they have found together. I liked seeing them try to explain their feelings to various family members in an attempt to gain their support. I didn't know how they were going to make things work, but they did.
Aden's brother Roman is also a strong presence in the book. His accident and subsequent disability have made him rather bitter and also somewhat self-centered. He's not happy about Aden's interest in Annie, and it's not just because of the religious differences. He sees Aden as pulling away from him to spend time with Annie and doesn't want to lose his caretaker. He does a couple things that are pretty mean to try to split Aden and Annie apart. While he was away for a few days helping another family member he became reacquainted with a girl he would have pursued before his accident. She tends to call him on his attitude which is something he needs but doesn't necessarily appreciate. She does start to have an effect on him, and I hope to see more of them in a later book.