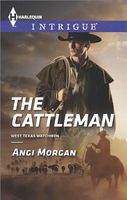 Series:
West Texas Watchmen
(Book 2)
West Texas Showdown
A city girl like Beth Conrad had no business on Nick Burke's Texas ranch. Even if the city girl in question was a DEA agent investigating gunrunners supposedly using Nick's land as a staging ground. One look in her eyes and he couldn't resist helping with her sure-to-fail mission…or his undeniable attraction to her. But Nick was fighting demons from his past, which left little room for romance. Beth vowed to help Nick face his PTSD, and Nick promised to pose as her fiancé to help her bring down the perps. But when circumstances forced Nick to relive the traumatic shooting that had altered his life -- this time with Beth's safety in the balance -- he made it his duty to ensure the outcome would be a whole lot happier.
Very good book with action packed in from the beginning and with Beth and Nick both having issues they need to overcome. Both of them are part of a task force formed to stop a particularly vicious group of smugglers. Beth is far outside her comfort zone. She may be a DEA agent, but she is also a city girl. Things haven't been going well for her lately and she needs a win in order to save her job. To do that she has to convince Nick to play the part of her boyfriend or fiance, and get him to teach her how to survive in this world. That isn't going to be easy, as they have been battling since the day they met - except for one night.
Nick wants to find the people responsible for his being shot the year before and who are using his land to smuggle guns. He's still haunted by nightmares of the shooting. But he's not very happy about having Beth living on his ranch while they do so. He hasn't been able to forget their one night together and he doesn't need the distraction. He especially doesn't want her bugging him about his nightmares.
I loved seeing Nick and Beth together. They are such different types of people. Beth's city girl ways really seem to bug Nick at first and he can't understand why she's the one that was sent to do the investigation. I couldn't help but laugh at the way Beth dressed, with her designer shoes and clothes, in spite of them being so impractical. When she was finally forced to get more practical clothes for her stay on the ranch, she still had to put her own stamp on them. I loved her purple cowboy boots with the rhinestones on them. It was fun seeing them have to work together to promote the idea of their "engagement" and fight the feelings that were growing between them. Beth was determined to help him deal with what had happened to him, even though he fought her every step of the way. Their attraction to each other was intensified as he taught her to ride and she taught him self defense moves. I loved seeing the fake feelings turn real, and how they worked everything out.
The suspense of the story was great from the beginning. Nick's determination to find out who was behind his shooting had him taking chances that kept getting him into trouble. When they were taken captive early on in the book I was riveted as I waited to see if and how they were going to get away. Things got even more intense at the end when the ranch was attacked, and Nick had to overcome his demons in order to save Beth. While one of the bad guys was taken out, there are still questions about who is behind it all.