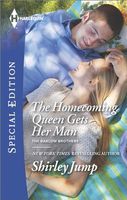 Series:
Barlow Brothers
(Book 1)
Welcome Home, Meri Prescott!
Roll out the red carpet -- Meri's back in town! But how could the jean-clad beauty fishing for crawdads be Stone Gap's every-blond-hair-in-place princess? It seems the former Miss North Carolina has had it with pageants and perfection. Meri's home to care for her ailing grandpa and realize her dream of becoming a photographer. If she could just ignore her treacherous heart when she gets her first gander at her gorgeous, all-grown-up first love…
Meri was sweet fifteen when Jack Barlow gave her her first kiss -- only to break up with her a year later and ship out to war. The soldier who comes home has changed, just like Meri. Doesn't Jack know two can heal better than one? That it's what is inside that counts? And Meri's got so much to give to that special Barlow man.
Lovely story about going home to heal. Meri walked away from the pageants she hated and started a new life as a photographer in New York City. Now she has come home to North Carolina to help take care of her sick grandfather. She's also trying to recover from an attack that left her scarred and afraid to pick up her camera again. The last thing she expects is to run into her old boyfriend Jack.
Jack is out of the army and back home also. He's spent a year trying to hide from his memories. He's drifting a bit, working in his father's garage and doing handyman things for Meri's grandfather. Seeing Meri again reminds him of everything he's lost. She was the girl he loved, but pushed away before he left for the army. Now he can't forget his feelings of guilt over the death of his best friend and Meri's cousin.
Both Meri and Jack are suffering from PTSD. Meri ran from the city and her memories of what happened, but every time she picks up her camera she sees her attacker. She is hoping that being back home will give her the motivation she needs to take back her life. It isn't easy when she has to stand up to her pushy, stage mother, Southern belle mama, who pushed into all those pageants, and is still trying to run her life. Jack blames himself for Eli's death and has frequent flashbacks to when it happened. He hasn't been able to talk about it with anyone, and is certain that everyone else will blame him too.
Jack and Meri are frequently thrown together as they help Meri's grandfather. It soon becomes obvious that their old feelings are still going strong. Jack has no trouble seeing past the scar on Meri's face to the woman she is beneath the beauty. He's there for her when she opens up about what happened to her and her fears about what it has done to her, and is able to show her how strong she really is. He loves her but fears her reaction if he tells her about Eli's death, so he tries to stay away from her. Meri was hurt when Jack broke off their relationship way back when, but seeing him again shows her that the feelings are still there. She notices the way that Jack pulls back every time they seem to get closer and aches for the pain she sees in his eyes. Can their love overcome their fears?
I loved the depth of the emotions that each of the characters shows. Meri's fears about never getting her photography back are deep. Her hurt at the way her mother treats her, and her wish for her mother to see Meri for who she really is. I loved that she was able to express those feelings to her mother, and was really surprised at what happened because of it. Jack's pain was especially emotional. He was so haunted by his guilt and his memories that he hadn't ever allowed himself to grieve. The meeting between him and Meri by the treehouse was incredibly moving. The ending was simply terrific.