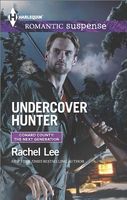 Series:
Conard County: The Next Generation
(Book 22)
Detective Cade Bankston never had any luck with female partners. So when he's assigned to work with feisty, raven-haired DeeJay Dawkins, he isn't pleased at all. Posing as a married couple, the investigators must team up to catch a killer. That is, if they don't kill each other first.
Putting their mission first proves tricky as mutual disdain evolves into mutual desire. But distraction is not an option. The killer who seemingly vanished five years prior has returned to Conard County, Wyoming, to finish what he started. And he just set his sights on two new victims.
Good book with terrific building suspense and an interesting romantic couple. Cade and DeeJay have been sent to Conard County to help find a serial killer. They are posing as a married couple, but the "marriage" is not going smoothly. Both Cade and DeeJay have issues with the opposite sex that get in the way. They're going to have to get over it in a hurry if they're going to catch the killer before he strikes again.
Both Cade and DeeJay judged each other based on past experiences with other people. Cade had been burned by a female coworker who accused him of inappropriate behavior. It has made him very wary of working with a female partner. DeeJay has it even worse. As a former military MP, she was forced out of the service when she refused to back down on rape investigations. As a victim herself, she has had too many bad experiences with male enforcement officers and their attitudes toward women. It only takes a couple days in Conard County before they realize that they have to come to terms with each other if they're going to do their jobs.
Once they are able to clear the air between them, they are faced with another issue. Now that they are no longer sniping at each other, it becomes evident that there is a strong attraction between them. One of the things I really enjoyed was seeing that the attraction did not get in the way of their job. In many books the couples seem to get intimate at times when they are in danger and shouldn't allow themselves to be distracted. In this book, Cade and DeeJay never let the attraction get in the way of their investigation. I also liked the respect they had for each other's abilities. DeeJay was constantly surprised that Cade listened to what she had to say and didn't treat her as a second rate investigator. I liked the way that Cade was sensitive to DeeJay's moods and was able to understand when her issues would flare up. I loved the last chapter, as Cade laid everything on the line and DeeJay had to decide if she was willing to take the risk.
The suspense part of the story was really good. The bad guy is known to the reader from the beginning and we get to see the way he thinks. What he does to his victims is truly disturbing, and I was on pins and needles to see if Cade and DeeJay could find him before he got to another kid. I really enjoyed seeing the methods that were used to solve the crime. It wasn't an easy time, and their frustration was obvious when there were delays because of storms. Things got really intense as the killer geared up for his next attack and DeeJay found herself in his sights. The final confrontation was chilling and I wondered how they were going to pull it off.
As always, I loved seeing Gage, Micah, Nate and other regulars from the series.