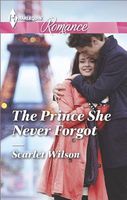 A kiss at midnight…
Ten years ago Ruby Wetherspoon shared a stolen New Year's kiss with enigmatic stranger Alex. A kiss she has never forgotten…
Now a renowned language therapist, Ruby is stunned when her Alex -- Crown Prince Alexander of Euronia to the rest of the world! -- shows up to ask for her help.
Ruby has never been far from Alex's thoughts, but duty to his country has kept him away. Now he has a chance to make both their dreams come true…
Very good book. Ruby and Alex had met in Paris on New Year's Eve while in their twenties. He had rescued her from a crowd and they spent the next few hours together enjoying the holiday. Ruby had no idea who he was as they made plans to meet the next day for sightseeing. Alex is suddenly called away because his father is ill, and she doesn't hear from him again. She isn't surprised though, as she discovers who he is a few days later.
Ten years later Alex suddenly appears at her workplace, asking for her help with his daughter. He's never forgotten her, and has kept track of her career. He's convinced that she is the only one who can help Annabelle, and will do anything to convince her to come with him. Ruby also never forgot Alex and the kiss they shared that long ago night. Seeing him again brings those old feelings right back to the surface, but he's still way out of her league. However, she can't refuse to help his daughter, so off she goes.
I loved both Ruby and Alex. Ruby is passionate about her work with kids, and empathetic with Alex and his worry about his daughter. I loved seeing her focus on Annabelle and what the child needs. She is terrific at looking at the whole child and what might be causing the problem. As she and Alex work together to help the little girl, Ruby discovers that her old feelings are growing stronger, and she begins to dream that a future is possible. She is also remarkably clear sighted and realizes that part of Annabelle's problem has been caused by Alex's inability to deal with the grief of his wife's death. And until he has done that, she sees that there is no future for her either. I loved seeing her explain her observations to Alex and force him to face the truth. It also opened up the chance for them to get to know each other as they are now, rather than seeing each other as they had been in the past. I also enjoyed Ruby's fresh attitude toward life in the palace and the way she slowly won people over. She was a bit naive though, about what would happen with the media when they discovered the budding relationship. She wasn't entirely fair to Alex with her reaction, but she hadn't been prepared for the fallout. She had a lot she had to think about before she could have her fairy tale ending.
I thought Alex was wonderful. His rescue of Ruby on that New Year's Eve was great, and I loved the way that he enjoyed the way she had no idea who he was. I loved seeing the ordinary things they were doing that evening instead of the fancy things he could have provided. He was really enjoying being with her, right up until he found out about his father's illness. He tried to get word to her, but when he didn't hear back from her he tried to go on with his life. Ten years later, as a widower with a small daughter, he is in desperate need of Ruby's help. He's followed her career and is convinced that she's the only one who can help Annabelle. While he's never forgotten that magical New Year's Eve, he's surprised to discover that his feelings for her are growing, now that they are spending time together again. I loved the way that Alex is so determined to do whatever it takes to help Annabelle. Though aware of her reputation, he is surprised by Ruby's methods, and more impressed every day. He also begins to think about seeing where the growing feelings for Ruby might go. It is here that Alex's inner romantic really begins to shine. I loved seeing all the little things he was doing for Ruby, and the things he tried to do with her. He was falling hard for her, which made it doubly stunning for him when she confronted him about his actions regarding his daughter. Though it surprised him, he had to admit that she was right. It was great to see him take her words to heart and make the necessary changes. The emotional growth in him was great, and things were going great until he pushed a little too fast and ended up causing great heartbreak for both of them. His romantic side came through though, and the ending was really fit for a fairy tale.
There were some really fun parts of the story as well as some really emotional ones. There were a couple of really funny parts involving Ruby, Alex and water that showed he could be lighthearted. Seeing him really start to connect with Annabelle was sweet -- and seeing Ruby protect his time with his little girl was fantastic. I loved the way that Ruby and Alex's mother-in-law bonded over the well-being of Annabelle when things could have turned out so differently. I loved the part that she played in Ruby's happy ending.