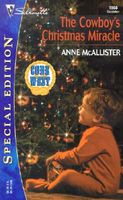 Series:
Code of the West
(Book 16)
A CHRISTMAS SURPRISE
Deke Malone got an early Christmas present -- an almost-two-year-old son! Parenthood had never been among Deke's priorities, but being a dad was the hardest -- and best -- thing he'd ever done. It took him home to Montana -- determined to give his boy a family, to give his parents a grandson.
Deke never expected to find widowed mom Erin Jones there. Years ago she'd been his best friend. And Erin never expected to see Deke, either -- especially with a son! Once she had been madly in love with him. But so much had changed. Surely they wouldn't get a second chance. Or would they?
After all, this was Christmas -- the season of miracles and of love.
Wonderful reunion story. Deke was stunned when a social worker showed up at his home with a twenty month old boy she said was his. The little boy's mother, a fellow photographer, had never told him she was pregnant. With her death, Deke is all that little Zack has.
Deke had never planned on having a family. His own relationship with his father wasn't good and Deke figured that family life wasn't for him. It turned out that being Zack's dad was the best thing to ever happen to him. It also made him think that it was time to mend fences, so he and Zack headed to Montana for Thanksgiving. He doesn't really expect much welcome from his father. John Malone had spent a lot of time belittling Deke's dreams of being a photographer. He wanted Deke to run the family grocery store and made no secret of his opinion. By the time he left college, Deke had had enough and left home. He hadn't been back in fifteen years.
I felt bad for Deke. While his welcome from his mom and sisters was everything he could hope for, his dad was just as dismissive as ever. Even though he hadn't expected anything to be different, he had still hoped for something better, and was hurt and angry at his father's attitude. After leaving his parents' house, he found himself instinctively driving toward his old friend Erin's house, even though he knew she was living in Paris. Since he was friends with her family, he continued on to see them, and was surprised to see Erin was there after all.
Erin had been in love with Deke when they were teenagers, even though he only saw her as a friend. Once she accepted that he would never think that way about her, she pursued her own photography dreams in France. There she met and married a photojournalist, and had a happy twelve years and three kids with him, before he was killed during one of his trips. She brought her kids home to Montana to be near her family. She never expected to see Deke again, much less with a child. Seeing him was a shock, and brought back the memories of how she used to feel about him. Erin was afraid that spending any time with him would devastate her when he left again.
Deke was thrilled to see Erin again, and was looking forward to catching up with her. He was a bit surprised by her cool reception. But the next evening, after her family and his had attended a showing of his photographs, he found himself on her doorstep. Erin was the one who had always helped him through confrontations with his father, and there he was again. This time, though, there was something else flaring between them, and he was surprised to find himself looking at her in a whole new way. They indulged themselves in a brief period of passion, knowing that Deke was leaving, and there was no future for them, especially as Deke still doesn't see marriage in his life.
Fate has a way of interfering in the best laid plans. Deke's father has a heart attack, and Deke finds himself staying and running the grocery store while his father recovers. He can't handle the idea of staying with his parents at this time, so he asks Erin if he and Zack can stay at her house with her and her kids. Erin is reluctant at first, because she can see that it will be way to easy to fall for him again. And as the weeks go on, Deke and Zack do work their way into her heart and life, and the lives of her children. Deke was surprised by how right it felt to be staying with Erin. Even working the grocery store is made bearable by being able to go home to her each day.
I loved seeing Deke's whole outlook on life change, as first he takes to being Zack's dad, and then becomes part of Erin's family. It was great to see how wonderful he was with Erin's kids, and how easily they blended together. Thanks to his father's attitude toward him, Deke is wary of rejection, and even as he finally realizes that he loves her, he can't bring himself to say the words. He nearly wrecks it all at the end before he realizes what he did, and manages to fix it. The ending was terrific, and even Deke's dad redeems himself.