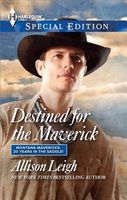 Series:
Montana Mavericks: 20 Years in the Saddle
(Book .5)
Rust Creek Ramblings
Addie McBride might be the most adorable construction worker we've ever seen. But there's something a little suspicious about Rust Creek Falls' newest handyperson. Rumor has it she used to work in a big-city shopping mall -- and that her only building experience is stacking piles of merino wool sweaters. So how in the world did she wind up on Jack Lawson's construction crew? Brace yourself, dear readers, as our Rust Creek cowboy meets his total opposite -- who might just be his perfect match!
Short and sweet prequel to the latest Montana Mavericks series. Addie came to Rust Creek Falls to make a new start to her life. She's lived in Cincinnati all her life, but she feels like she's going nowhere fast. Even her dating life is lackluster. So when she hears that Rust Creek Falls is looking for people willing to come help rebuild after the big flood, she signs up. The problem is, she may have exaggerated her construction skills just a bit...
She meets Jack the first day she's there, before she's really had a chance to settle in. She's attracted right away, and he seems to be interested also, until they talk about why she moved there. Suddenly he's putting some distance between them.
Jack was interested, until he found out she'd be working on his construction crew. He refuses to get involved with any woman working for him, as he had seen the disastrous results when his brother did the same. That woman had lied her way to suing his brother for half his business. So Addie has two strikes against her - she's working for him, and he gets the feeling she is hiding something.
I loved Addie's determination to do her absolute best at the construction work. The reactions of Jack and Reg to her efforts were fun to see. I liked that they respected the way she put everything she had into it. The attraction between Jack and Addie stayed strong, even though Jack tried to resist. I really enjoyed the ending - Jack was pretty sweet after all was revealed.