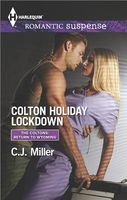 Series:
Coltons: Return to Wyoming
(Book 3)
There is no way to escape Dead River…and a killer is waiting
A contagious virus has rocked the small, snow-covered town of Dead River, Wyoming. And time for a cure is running out. But sick patients and a community quarantine is just the beginning of nurse Gemma Colton's troubles.
The arrival of Dr. Rafe Granger triggers memories from her past: a high school crush…unfulfilled desires. Even Rafe's outward persona -- cool, unaffected -- is a thin veil for his yearning. They must suppress temptation to focus on finding a cure. But someone else is watching them. Someone else has other plans for the town.
Good conclusion to the series. The virus is spreading and the doctors and nurses are working frantically to find a cure. The escaped murderer is still on the loose, and there have been attacks on members of the clinic staff and vandalism at the clinic itself. Exhaustion and stress are taking a toll on everyone.
Rafe had grown up in Dead River, but left as soon as he could. He returned to Dead River as a doctor to fulfill a promise, but has no intention of staying. His memories of Dead River are not good ones, and he can't wait for the quarantine to be lifted so he can leave again. He works very hard to keep an emotional distance from anything having to do with the town, but it's getting difficult. Gemma had left Dead River only long enough to go to nursing school, before she came home to work in the clinic. Rafe's presence reminds her of the feelings she had for him in high school. Now that they are adults, her desire is even stronger. She wants him, but knowing he's leaving again makes her wary of getting involved.
I really liked Gemma and Rafe. They had terrific chemistry together. Both were wary of getting involved, but the attraction became too hard to resist. Rafe can admit to himself that he cares enough about Gemma that he doesn't want to hurt her, but refuses to consider the idea of staying in Dead River. He gets angry and defensive whenever she tries to emphasize the good things about the town or how much he's needed there, and remains adamant that he will leave. But he discovers that being with Gemma fills a hole in him that he didn't know he had. As the danger increases, his feelings for her deepen, but he sees no resolution for their dilemma. It isn't until it's nearly too late that he wakes up to what is most important.
Gemma has always had feelings for Rafe and they've only gotten stronger since he's back in town. She knows that he's leaving again, and has her own reservations about getting involved with him. She's already given her heart to one doctor and had it broken, and refuses to let herself fall for another. She's seriously considering just having a fling with him, as the attraction is just getting hotter. She figures she should be able to keep her heart out of it. Of course, she can't, and the more time she spends with him the more she wants him to stay. She knows he's planning to leave, she even knows why he has such an aversion to the town, but she sees a different side to the issue. She sees a man that cares about the people in town even though he won't admit it, from taking in a troubled teen to the compassionate way he treats his patients. She doesn't want to give him up, but he has to want to stay.
The suspense of the story just kept getting more intense the further along I read. I could feel their frustration as more people became ill and their efforts to find a cure were not going well. The attacks on the staff members were bad enough, but when someone started vandalizing the clinic and destroying their research they got really worried about who was behind it. Gemma made some discoveries that cast suspicion on someone, and she and Rafe have to find a way to protect their research. As progress is being made a startling discovery is made about the origin of the virus and how it came to Dead River. The final confrontation with the culprit puts Gemma in extreme danger, and it's up to Rafe to find a way to save them all.