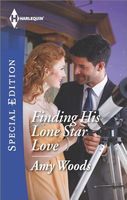 Series:
Peach Leaf Texas
(Book 2)
You have a daughter…
Those words from a long-ago fling changed restaurateur Sam Haynes's life forever. But when he finds his child in Peach Leaf, Texas, Sam gets more than he bargained for. Headstrong Shiloh and her beautiful aunt, Lucy Monroe, are a package deal -- one that Sam is more than happy to accept.
Observatory manager Lucy doesn't believe in out-of-this-world romances. The only star in her life is her handicapped niece, Shiloh. So, when mysterious Sam shows up in Peach Leaf, Texas, Lucy is on guard. The last thing she needs is a man in her life. But her heart melts as Sam bonds with Shiloh, making her wonder if the stars might align for her very own happily-ever-after…
Good story. Sam was stunned to hear from a college one night stand that she had given birth to his daughter. He is determined to find her and be part of her life. He finds her living with her aunt and has to decide the best way to proceed. Lucy has devoted her life to her niece and the observatory. She doesn't know why Sam is in Peach Leaf, but he's come to her rescue with the observatory and he and Shiloh have bonded, so she'll accept his presence for now.
Sam doesn't want to tell them who he is until he's gotten a chance to know them. As he arrives in the middle of a crisis at the observatory's restaurant, it's the perfect way for him to slip into their lives. Meeting Shiloh blows him away. He feels an immediate connection with Shiloh and wants to do everything he can for her. He's attracted to Lucy right away, but tries to resist as it would only complicate things further. He's drawn to the passion she has for her work and the passion he sees under the surface in the woman. He soon realizes that he's falling for her, and that revealing his connection to Shiloh could jeopardize the relationship growing between them.
Lucy is more comfortable amid the stars than around men. She's had a couple of relationships that haven't worked out and has decided that men are something she doesn't need in her life. Her life is full enough with her work and her niece. She's wary of Sam when he first arrives, feeling that it's too good to be true when he's exactly what she needs at the cafe and he takes to Shiloh. She's attracted to him, but worries about what would happen if she gives in to it. The temptation grows as she begins to trust him and open up to him about her past and fears and dreams. Discovering his deception makes her doubt herself again when it comes to relationships.
I really liked Sam's determination to be part of Shiloh's life. He shows an amazing amount of sensitivity to her and her emotions. I also liked the way that he loved Lucy just the way she was, even when he didn't understand what she was talking about. I really liked that he was determined to fight for her love. Lucy's wariness was understandable, but it really worked against her with Sam. I did like the way she was able to see the truth of her feelings at the end, and gathered the courage to talk about them. Though they declared their love early in their relationship, I loved the way the epilogue showed that they took the time to really get to know each other.