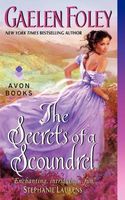 Series:
Inferno Club
(Book 7)
Nick, Lord Forrester, has a reputation that is legendary -- both as a lethal warrior and a wicked lover. But when his rule-breaking ways land him in a Scottish dungeon, he's left there to rot, until a mysterious lady visits his cell and offers him a way out.
All he must do is risk his neck on the mission she proposes -- and obey her every command. One look at the luscious beauty has Nick ready to promise her anything, but he must resist his desire, or she could send him straight back to prison.
Virginia, Lady Burke, is well aware that the powerful ex-spy will try to take command of their quest, but it's her job to keep him under control. Yet how can she keep this untameable scoundrel under her thumb when all she really wants is to unleash the smoldering passion between them?
Fantastic conclusion to the Inferno Club series. At the end of the last book (
My Notorious Gentleman
) Nick was brought back to the Order and placed in their prison for his crimes. Six months into his sentence he is approached by a woman who offers him a chance to redeem himself. All he has to do is obey orders. Anxious to get out of his cell, he agrees to her proposal.
Virginia is the daughter of Virgil, the man who had trained the men of the Inferno Club. She is on a mission to find some missing girls and needs Nick's special talents. There is also something else driving her need, something that she's reluctant to tell him until it's almost too late.
I loved Virginia. She is a strong and determined woman. All her life she had wanted her father's attention, but she had to share him with the boys he was training. She tried really hard to get him to allow her to train with them, but he always refused. As a girl she managed to sneak off a few times and observe their training, and developed a crush on the young Nick. When she needed help, she knew exactly who she wanted, even if she had to get him out of prison to do it.
Nick is fantastic also. There were some questions about his character in previous books, but all is explained here. After years of working for the Order, Nick had had enough and wanted out, something that just doesn't happen. He made some questionable choices, but things worked out at the end. Now he just sees himself as a screwup, and looks forward to this chance to redeem himself.
I really enjoyed their initial meeting and interactions. Virginia first sees him in his cell, where he is exercising with his shirt off. There are sparks between them from the beginning. I loved the descriptions of how Nick is feeling in the first couple days out of prison, especially his feelings of being somewhat overwhelmed. I liked Virginia's treatment of him, and how she seemed to sense what he needed. I loved his reaction to finding out who she is, and the impact it had on his feelings. It was fun to see the conflict between what he wanted to do with her and what he knew he should do. I enjoyed the development of their romance. Both are strong willed and have to learn to work together and especially to trust each other. As they do, Nick begins to regain some of his self respect. The attraction between them is strong and continues to grow throughout the story. I also liked the way that the respect they had for each other's abilities added to their relationship.
An important addition to the story is Virginia's son Phillip. He is fifteen (almost sixteen!) and sees himself as nearly grown. He didn't make the greatest first impression, as he was quite disrespectful to his mother. It soon becomes clear that he's fighting against Virginia's overprotective attitude. He is fascinated by everything he has heard about the Order and really wants to be part of it. He is intrigued by Nick and his reputation, which makes him even more determined. He ends up popping up several times, and gets part of his wish as he helps Nick with his mission. He also learns a couple valuable lessons which was good to see.
The action of the story, with the search for the missing girls and Virgil's journal, was well done. Each step built on the last and the intensity built throughout. Virginia's tendency for action before thinking landed her in some deep trouble that Nick had to rescue her from. The final confrontation was quite intense, with both Virginia and Phillip getting to fulfill some of their deepest wishes, and Nick feeling whole once again.
The epilogue was terrific, with all of Virgil's "boys" coming together. I loved seeing Nick's complete acceptance back with them. Their reactions to Virginia and Phillip were especially fun to read.