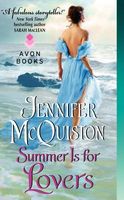 Series:
Second Sons
(Book 2)
His heart is unavailable. Luckily, her interest lies in the rest of him . . .
Though she was just a girl when they first met, Caroline Tolbertson's infatuation with David Cameron remains undimmed. Now fate has brought the handsome Scotsman back to Brighton for what promises to be an unforgettable summer. Soon, Caroline will have to choose a husband, but for now she is free to indulge her curiosity in things of a passionate nature.
That is, if David will agree to teach her.
Past mistakes have convinced David he'll make a terrible husband, though he'll gladly help the unconventional Caroline find a suitor. Unfortunately, she has something more scandalous in mind. As the contenders for her hand begin to line up, her future seems assured . . . provided David can do the honorable thing and let them have her.
When a spirited young woman is determined to break Society's rules, all a gentleman can do is lend a hand . . . or more.
A really fun book. It starts, oddly enough, with a botched suicide attempt, as twenty-one year old David Cameron is distraught by the loss of the young woman he loved, a death he blames on himself. He tries to kill himself by drowning, only to realize that he doesn't really want to die. Unfortunately, he may succeed because he's also quite drunk and fighting a strong current. Twelve year old Caroline comes to his rescue, a young girl who is a phenomenal swimmer thanks to her late father. She gets him to shore, where he thanks her, admits his idiocy, and encourages her to be true to herself.
Twelve years later they meet again on that same stretch of beach, neither having forgotten the other. As a matter of fact, David has played a large part in Caroline's dreams over the years. She is still taken by the man he has become. In spite of the changes, David has no trouble recognizing Caroline. He has never forgotten being saved by her.
Caroline suffers socially, thanks to her unfashionable height and shortage of social graces. She has also become the butt of jokes thanks to a summer visitor to Brighton. She had trusted the young man, and he betrayed that trust. Caroline has taken it upon herself to try to save her family, and to do so she needs to marry a man with money. Unfortunately, it doesn't look like she'll be able to find one because of what he said. At a dinner party that night, Caroline encounters David again, where he tries to rescue her and her sister this time. Then a late night encounter where he finds her swimming alone, brings her to his attention in other ways.
David is impressed by her skill and the passionate woman he senses behind the proper one he encountered during the day. He finds himself drawn to her, even though she's nothing like the women who usually appeal to him. He also knows that he's not the man for her. He's sworn he'll never marry because of what had happened all those years ago. In order for him to feel like he's repaid the debt to her, he takes it upon himself to try to repair her reputation among the people of Brighton. But doing so brings her to the attention of those who had treated her so badly.
I loved the interactions between Caroline and David. She sees the pain he still carries after all these years and wants to help him move past it. If he can, maybe she can show him that he's worth having. David seems to be the only person who can see the person that she really is. He tries to show her that only someone who can see and respect who she really is would be worthy of marriage. His biggest problem in making her attractive to others is that he becomes interested in her himself. His battle with himself frustrates Caroline, as it causes him to send out mixed messages to her. I liked his mother and the care he showered on her. I also liked the way she tried to show him that his guilt was misplaced and that it was okay to move on.
An upcoming swimming competition has Caroline teaching David to swim the way she does. She would love to enter the competition herself, but women of this time period don't swim. Meanwhile, thanks to David's efforts, she has become wildly popular. None of the men can measure up to David, but he's adamant that he isn't the man for her. The lead up to the swimming competition itself has Caroline trying to do what she thinks is best for her family rather than herself, only to find out that her mother and sister are also trying to keep the same promise to care for the family. I loved the competition itself, especially Caroline's part in it, and the effect on the people around her. The conclusion of the race itself was intense, as was its aftermath.
The secondary characters were all well done and each had a purpose within the story. Miss Baxter was my favorite, even though she was rather unlikable at the beginning. She was rather mean-spirited at times, but she redeemed herself very well at the end. Mr. Dermott was no gentleman in his actions through most of the book, though he did get better for awhile before he totally screwed up. I also liked Caroline's sister, Pen. It was pretty obvious what she had been doing during those times she was missing. I liked the way she went after what she wanted. I hope she gets her own story.