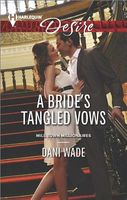 Series:
Mill Town Millionaires
(Book 1)
The Term Limit Bride
Wealthy art dealer Aiden Blackstone has successfully avoided two things: returning to the hometown that haunts him, and taking a wife. Now thanks to his controlling grandfather's machinations he's reluctantly ended up doing both. But Christina Reece quickly proves she's no mere platonic bride of convenience.
The only way she can make this marriage outlive their one-year agreement is if she can make her sexy husband open his heart and forget the demons of the past…before it's too late. Because there's an enemy on the horizon, threatening to take away all they hold dear, including their newfound passion.
Very good book with a lot going on. Aiden hasn't been back to his hometown in ten years. He swore that he wouldn't go back while his grandfather was still alive. Through lies and trickery the old man got him there anyway and has used threats against Aiden's mother to keep him there. Not only is Aiden being forced to stay and take over the family mill, he also has to marry. He can't allow his mother to pay the price, so he reluctantly agrees, and accepts Christina's offer to be his wife.
Christina looks at Aiden's mother as the mother she never had herself. Her parents were self-centered people who treated her as an accessory rather than their child. Lily had always had a kind word or a hug to spare for Christina. When she was offered a chance to become Lily's nurse after Lily became paralyzed in a car accident, she couldn't say no. Marrying Aiden was just one more way for her to care for Lily.
Aiden has never wanted to marry and have a family of his own, and has promised Christina to keep his hands to himself. He finds that increasingly hard to do as he finds himself incredibly attracted to her. Though initially suspicious of her motives in agreeing to marry him, he soon realizes that she has an incredible capacity for nurturing and caring for others. Though he fights it hard, he finds he likes having some of that caring focused on him, and starts thinking about making the marriage permanent. But he's afraid that he may have ruined it all with his temper and his attitude.
Christina has always cared about Aiden, even when they were kids. She was quite happy to offer herself as Aiden's wife and was willing to do whatever he needed her to do. While she knew she was attracted to him, when she discovered the attraction was mutual, she looked at it as an opportunity to help him. She could see that his memories of his life at Blackstone Manor were tearing him up, and thought if she could help him get past them they might have a chance for a future together.
I found it interesting that both of them looked at the car accident that Lily had been in and blamed themselves. Both had been carrying a tremendous burden of guilt over it, something that had affected their entire lives since the accident. I loved seeing how, by absolving the other of their guilt, they were able to give up their own. When an attack nearly kills Christina, Aiden has to face just how much he loves her and figure out how to tell her how he really feels.
Another part of the story is that of the mill itself. Aiden doesn't want the responsibility of it and never had, but when forced to it he gives it all his attention. It is partly Christina's influence that makes him see the mill's importance to the whole town. I loved seeing him face down the man who is trying to buy it to destroy it. There are suspicions that he is using underhanded tactics to force a sale of the mill, but proof is hard to come by. As it wasn't resolved by the end of this book, I expect that it will be an ongoing theme through all three books.
Family is also an important theme. We see James's efforts to manipulate those around him into doing what he thinks is best for the family legacy. There is also Christina's longing for a family of her own, and the way she looks at the people of Blackstone Manor as her family. I liked seeing the obvious love and respect Aiden and his brothers have for each other, and that they support each other. There is also the love they have for their comatose mother. I have a feeling that even that is going to play a part in the following books.