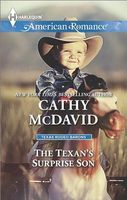 Series:
Texas Rodeo Barons
(Book 5)
Taken By Surprise
Jacob Baron is shocked to discover he's a father. But he's determined to do right by his son, despite the lack of strong role models in his own life. Jacob's a bull rider, and there's no halfway with him. He'll be the kind of dad his son needs…even if Cody's attractive aunt, Mariana Snow, seems to question his daddy skills at every turn.
Jacob cooks, cleans and has a nice touch with a two-year-old. He also has broad shoulders, gorgeous eyes and a mouth that can only be described as sexy. But Mariana's own part-time, no-good father was a rodeo star. She knows their charms can't be trusted. She's hanging around for Cody's sake, that's all. At least, that's what she keeps telling herself….
Good book. Jacob is a member of the Baron family by adoption, and works in the family business. He is also a rodeo bull rider on weekends and is trying to make the finals. At the end of one rodeo he meets the sister of a woman he had a weekend fling with and discovers he's a father. He's determined to do the right thing, even though he has no idea how to be a father, so he asks Mariana to move in with him and Cody until he learns the ropes.
I liked both Jacob and Mariana, though she had her moments when I wanted to smack her. Jacob was stunned to discover he was a father, but he stepped right up. His own father is a convicted felon, and his adoptive father always seems somewhat distant, so he is determined to be the best father he can be. He knows he's going to need some help, so he talks Mariana into moving in and guiding him through it. I loved seeing Jacob get so involved in being a daddy. He was really sweet with the little boy and I loved how quickly they connected. Jacob is also very attracted to Mariana, but he frequently gets the feeling that he isn't measuring up to her standards. Jacob has also been fighting for his adoptive father's respect, as he endeavors to move the family's oil business into the field of alternative energy. He feels that the only time he has Brock's attention is when he is winning at rodeo. I loved seeing Jacob and Mariana grow closer as he begins to overcome her fears. When his rodeo activities and professional plans collide with the needs of his son, Jacob has some important decisions to make. There are a couple interesting twists that result from those decisions.
Mariana became her nephew's guardian when her sister died. Her sister had never intended that Jacob know that he was a father, but Mariana felt that it was important that he know. As a lawyer, she researched his background before contacting him. She liked everything she found out about him except for his rodeo involvement. Her father was involved in rodeo and had never been there when his family needed him, allowing his rodeo commitments to take precedence. She fears that Jacob would be the same way and doesn't want Cody to suffer the way she did. When she told Jacob about Cody she really did not expect him to immediately accept responsibility, and is wary about his abilities and intentions. She accepts Jacob's offer to move in with him and teach him what he needs to know. This is where Mariana bugs me a little. She has a really hard time letting go of any kind of control over Cody's life. Her overprotectiveness when it came to almost anything Jacob tried to do with Cody seemed excessive. She obviously loves Cody and wants what is best for him, but is also afraid of losing all contact with him. Mariana also starts out fighting her attraction to Jacob. As the days pass, her attraction gets stronger and sharing her life with Jacob begins to feel right. But she still sees her father when she looks at him, and an overreaction to something that happens drives them apart. Mariana has to decide if her love is stronger than her fears.
I enjoyed the Baron family interactions. Though Jacob has always felt like an outsider, it doesn't appear that his siblings look at him that way. There is some very good support that shows among them. I liked seeing him help out his sisters with their quest. The information that Mariana discovers for them puts an interesting twist on some of the business activity that we've seen. I'm looking forward to the resolution in the final book.